If you want to give your Twitter followers play-by-play highlights of your World of Warcraft sessions, then TweetCraft is for you. The free, open-source tool lets you send and receive tweets from within the game.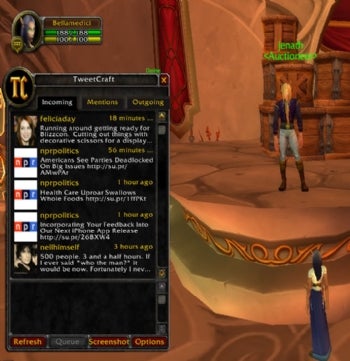 TweetCraft runs outside of WoW from the system tray, and is also accessible in-game as an addon. On first run, you'll be prompted to enter your Twitter username and password and to select which WoW account you want to use. TweetCraft needs to know which WoW account to use so that it can keep watch on the correct game directory to pick up tweets you want to send, and doesn't need your game password.
Once in the game, you can bring up the TweetCraft window by typing /TweetCraft. You'll then see your tweets, and can type in your own tweet as well. Refreshing your list of tweets or sending your own requires reloading the UI.
TweetCraft can automatically send tweets when you take a screenshot, gain a new achievement, enter an instance or perform other actions. Enable or disable these auto-tweets from within the WoW addon configuration screen ( ESC | Interface | Addons ).
It's important to note that some comments on TweetCraft's FAQ page suggest that the tool may violate Blizzard's terms of service, and TweetCraft users may therefore risk a ban. TweetCraft's author says he has contacted Blizzard to determine whether there was any risk and has not received any notice of violation. Also, the application's source code is available.