Opera has always been a try-harder browser packed with features. Despite this, it has not yet managed to get the same kind of publicity that Internet Explorer, Firefox, and Chrome garner. And that's a shame, because this release candidate version 10 of the venerable browser adds a slew of clever features that anyone who browses the Web will welcome.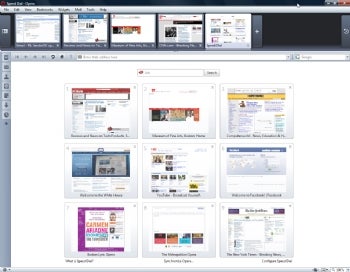 As with previous versions, the Opera 10 release candidate is fast, configurable, and clean-looking–and offers just about everything you'd expect in a modern browser, including a pop-up blocker, plug-ins, RSS reader, anti-phishing tool and more. Unlike competing browsers, it also has a surprisingly good e-mail client built into it, with support for POP3 and IMAP servers, the ability to create incoming message rules, and a spam filter. And, as with previous versions, Opera 10 bristles with features too numerous to mention in this short review…yet manages to pack them all in an elegant, simple-to-user interface.
Version 10's new features don't clutter up the browser or make it more difficult to use. Overall, Opera 10's design is sleeker-looking than previous versions. New features, though, go more than skin deep. Tab handling has been improved, for example; you can now configure the browser so that thumbnails of all of your tabs appear above each tab. The thumbnails are resizable as well.
The new Speed Dial feature is also worthy. Similar to Safari 4′s Top Sites feature, Speed Dial improves on Top Sites by virtue of being more configurable. Whenever you open a new tab in Opera, you can customize the page that appears, to have anywhere from four to 24 of your favorite Web sites displayed as thumbnails. That way, you can more quickly get to the sites you visit most often by clicking on a thumbnail. The feature is turned on by default, and there appears to be no way to turn it off–not that you'd want to, because there's no downside to it.
Opera always displayed pages fast, and the newest version displays them even more quickly, particularly on interactive sites that use a lot of resources such as Gmail and Facebook. Opera claims a 40 percent speed bump, although we couldn't verify that.
There are lots of other new features as well, such as an inline spellchecker that will be particularly welcome to bloggers; and Opera Turbo, a compression technology which Opera claims allows you to surf faster on slow connections such as via dial-up. As a broadband user, I was not able to test this feature, and so I can't vouch for it.
Surprisingly, given how many features Opera has, it is missing one feature that IE, Firefox, and Chrome all have: A privacy mode which lets you surf the Web and then have all traces of a session vanish after you close the browser. If that feature is important to you, you won't want Opera.
So should you replace your current browser with Opera? Browser choice is exceedingly personal and idiosyncratic, so we can't give you a one-size-fits-all answer. But anyone who wishes his or her current browser were faster and had more features will certainly want to give it a try.