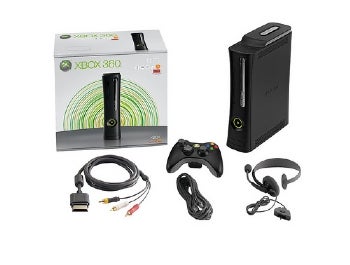 You knew it, we knew it, and now Microsoft's officially confirming its highest-end Xbox 360 will indeed price-parry Sony's slim-sized 120GB PlayStation 3 at $300. The news is breaking as I type this, so details are pretty basic, but Microsoft's Larry "Major Nelson" Hryb writes that the pricing takes effect tomorrow, Friday, August 28th.
Here's the breakdown:
$299.99 – Xbox 360 Elite (was $399.99) $249.99 – Xbox 360 Pro (was $299.99) * $199.99 – Xbox 360 Arcade (was $199.99)
* While supplies last. The Pro is (officially) no longer being produced.
Acknowledging the furious speculation about the drop fed by recently leaked retail fliers, Hryb quipped "Betcha didn't see that coming…did you?"
The bad news? The HDMI cable's been officially pulled from the Elite's package…and Wi-Fi is still $100. Sorry "fair-price" peripheral wonks. You win some, you lose some.
Stand by for our updated price guide. The battle for hearts and wallets is on.
Follow me on Twitter @game_on.