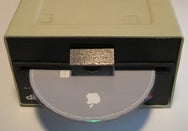 Have you ever wanted to give your Mac Mini a retro Apple vibe? If so, just take one old Apple Disk II, one Mac Mini, and put them together for one cool case mod.
Modder Charles Mangin did just that, bringing his old Apple hardware into the 21st century. This fairly simple mod involves taking an old Apple Disk II floppy drive, removing its innards, and squeezing the Mac Mini's components into the drive's enclosure.
The Apple Disk II was designed back in 1978 by Steve Wozniak and originally handled 5.25-inch floppies. It offers more than enough room for today's slot-loading DVD drives.
This retro mod even makes use of the drive's activity LED, which lights up when the Mini is powered on. The untrained eye may find it hard to spot the modern computer hidden inside this thirty-year-old disk drive.
Follow Geek Tech and Chris Brandrick on Twitter.