If you're caught in an e-mail blizzard, have hope. SenderOK (free beta) can help you carve a path through the e-mail burying you. It works as both an add-in that integrates into Outlook 2003 and 2007, and as a browser add-in that works with Web-based mail services such as Gmail and Hotmail. So if, like many people, you use multiple e-mail services, it can help you cut through the clutter on all of them.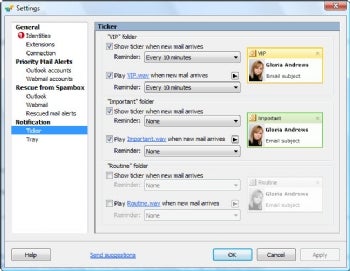 SenderOK works by sorting your incoming mail by their importance to you, ranging from Routine to Important to VIP. To do this, it first analyzes of the e-mail you've sent, looks for patterns and frequency of communication with certain people and types of messages, and then determines what mail should be given what level of importance. It continues to learn from you as you use it. In addition, you can tell SenderOK to take certain actions depending on who sends you an e-mail, such as always considering e-mail from your boss as VIP.
There's plenty more here as well, such as displaying a history of all of your e-mail exchanges by thread and person. You also get e-mail alerts with balloon tips and voice notifications. You might want to turn off the voice notifications, because they quickly become annoying.
This newest version of SenderOK introduces the ability to work with Web-based mail services, and also includes anti-phishing tools that can verify that mail you've gotten is from well-known senders such as PayPal and Facebook. I was able to get SenderOK to work with Windows Mail, but it wouldn't work with Gmail, because SenderOK refused to accept my Gmail password. Vendor Web CEO claims that it works for other users; the company was unable to explain why this happened with my accounts. You may or may not have problems getting it to work with Gmail.
If you're like most people and want a way to cut through your e-mail clutter, SenderOK is a great way to do it.