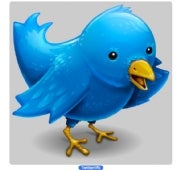 Fox is juicing its repeats of the TV series Fringe with a new Twitter twist. The network will introduce this week "tweet-peats" — an on-screen scroll of Twitter messages from cast and producers that will appear during the episodes.
Fox has come up with a new way to get viewers hooked into watching repeats of two episodes of the TV show Fringe. On Thursday at 9 p.m., the penultimate episode of Fringe will be accompanied by Twitter commentary from two of the show's cast and producers.
During the episode, a scroll bar at the bottom of the screen will provide insight from cast members Josh Jackson and John Noble and producers Jeff Pinker and J.H. Wyman. Dubbed "tweet-peats," the Twitter messages will also be available online and viewers can participate and ask questions.
The "tweet-peat" re-run of Fringe is followed by the pilot of the show Glee, which will also get the insight via Twitter messages from cast members. The Glee pilot, a repeat that previewed in May, is aired on Friday at 9 p.m.
If you want to get involved in Fox's "tweet-peats," all you have to do is follow the show Fringe on Twitter (http://twitter.com/FRINGEonFOX) and Glee (http://twitter.com/GLEEonFOX). The question streams from users will be moderated, so not everybody's tweets will be aired.
Follow Daniel on Twitter @danielionescu