If you've used Windows for any length of time, chances are you've seen a Blue Screen of Death. You're lucky when it's only a bad driver and your system reboots politely. When you're unlucky, it could be something more serious, such as a hardware failure. Either way, it's a sign of system instability. Unfortunately, a BSOD is usually cryptic. Factor in the fact that Windows usually reboots itself automatically within a short period of time–with no assurance that you won't get the same error–and you can see the need for the free BlueScreenView.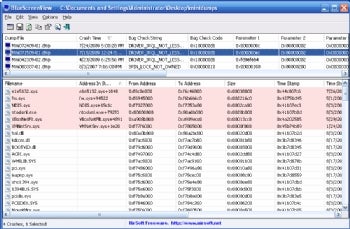 BSV opens, displays, and interprets the data saved in minidump (*.dmp) files which are usually found in C:WindowsMinidump after a BSOD. You must have Windows set to save a "small memory dump" which may be done in for My ComputerPropertiesAdvancedStartup and RecoverySettings in XP for instance. In XP, this is generally the default behavior.
Once you've pointed BSV at the minidump folder (you can't just drag and drop or open a minidump file with program) you'll be able to see the exact programs and dlls involved in the crash, all the dlls running at the time, or even a simulated BSOD. For experienced users this helps diagnosis the cause of the crash in a minimal amount of time. For less savvy users, you'll be able to tell the more-savvy user you're talking to on the phone more about what happened.
This little utility has found a home in my toolkit. I don't see as many BSODs as I used to, but when I do, BlueScreenView makes it a snap to see the dump info. Stay stable, my friends.