Sprint says it will begin offering the HTC Touch Pro2 on September 8 for $350, after rebate and 2-year commitment. The Pro2 comes pre-loaded with Windows Mobile 6.1, Wi-Fi connectivity, a 3.6-inch touch screen with HTC's TouchFLO user interface, slide-out QWERTY keyboard, dual microphones and speakers, and a 3.2-megapixel camera.
Sprint's version of the Pro2 is optimized to work on the carrier's EVDO 3G network and also sports CDMA and quad-band GSM connectivity — making it a truly international phone.
Sprint is the second U.S. carrier (T-Mobile was the first) to sell the successor to HTC's Fuze/Touch Pro.
By comparison, T-Mobile sells the HTC Touch Pro2 for the same price, with a $200 instant rebate and a two-year contract. Both carrier deals come with the usual caveat that to qualify for the reduced price you must be a new customer or a current customer eligible for a device upgrade.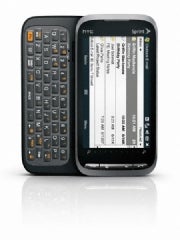 On Sprint, the Pro2 will also have access to carrier-specific features such as Sprint TV, NFL Mobile Live, and NASCAR Sprint Cup Mobile. Sprint's data and calling plans that include these features typically start at $70.
But is the HTC Touch Pro2 Worth it?
The $350 price tag is a pretty hefty, considering marquee devices like the myTouch 3G, iPhone 3GS, and Palm Pre can all be picked up at the significantly cheaper price of $200 with a two-year contract. The Pro2 does have the advantage of working virtually anywhere around the world with CDMA and GSM capability, but then again both the iPhone and the myTouch 3G are also quad-band GSM phones.
Of these four phones, the Pro2 also ranked the lowest in PC World review scores. While the other three phones had overall scores between 87 and 89, the Pro2 fell short of that mark at 84. The major complaint with the Pro2 was system sluggishness when doing basic functions like opening apps or scrolling through contacts, but PC World reviewer Ginny Mies did give the device thumbs up for being "eye-catching, functional, and well constructed."
If you want to get your hands on Sprint's HTC Touch Pro2, you can buy the phone in retail stores, online, and through Sprint's telesales line beginning next Tuesday. T-Mobile's version of the Pro2 is available now, and you can also find unlocked versions of the HTC Touch Pro 2 online for just under $800.