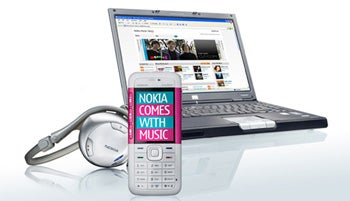 Nokia is postponing the U.S. launch of its Comes With Music service until 2010, Nokia confirmed to Forbes on Monday. The service has received a lukewarm reception in the nine countries in which it's already available, so Nokia is taking a step back to rethink its strategy.
Comes With Music is bundled with select Nokia phones and offers unlimited (copy-protected) music downloads for 12 to 18 months.
Nokia first introduced Comes With Music in October 2008 in the U.K., but the adoption of the service has been slow. Nokia has since launched Comes With Music in nine other countries, including Australia, Singapore, and Brazil, where it has seen limited success.
Comes With Music sounds like a promising service, and a good deal compared to other music services available in the U.S.: you could download an unlimited number of copy-protected songs to your phone, which you would then have access to for the lifetime of your device (which Nokia estimated at around 12 to 18 months). Then, if you bought another Nokia Comes With Music-compatible phone, you could continue using the service.
But it looks like Nokia has had difficulty finding partners in the U.S. for Comes With Music. In the U.K, only one wireless carrier partnered with Nokia to offer the service. Without a carrier subsidy, the price of an unlocked Comes With Music Nokia phone is quite prohibitive, as the bundle price is higher than of a regular unlocked handset.
So Nokia is now rethinking its strategy, which may give the Finnish company time to work on its sales strategy. After all, even though they are offering a good deal, they still have to pitch Americans on yet another copy-protected music service, considering big names like iTunes and Amazon are now offering music files without copy protection.
As a side note, Nokia's delay announcement comes just before Apple's announcement of a September 9 event. Apple is expected to unveil next week a new line of iPods and also some new music-centric centric services.