Do you have a network in your small office or at home? If so, you probably found setup easy, but now you could use some assistance in managing and troubleshooting the network, as well as in getting the most out of it.
We're here to help. We've rounded up ten great networking downloads–many of them completely free–that will allow you to manage your network effectively, solve wireless-networking problems, gain remote access to your network, and more.
(If you're ready to grab several of these programs, see our networking-downloads collection.)
General Network Tools
Looking to manage your network like an IT pro, even if you have no experience? With these downloads, you'll be able to troubleshoot and repair network connections, obtain the full technical details about every device on your network, measure network bandwidth, and even get remote access to your network when you're on the road.
Advanced IP Scanner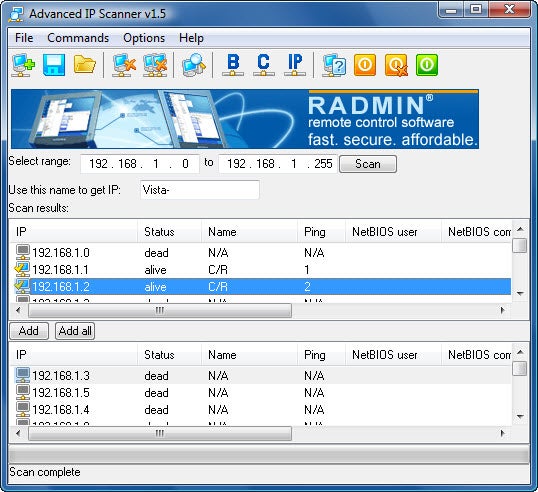 If you want a quick, no-fuss way to view all of the devices on your network, along with their IP addresses and other information, give this small, free, simple-to-use utility a try. It performs a lightning-fast scan of all IP addresses on your network, or of all devices in an IP range you specify. After the scan, it tells you what devices are at what address, and whether each device is currently live or idle. It also provides each device's status, machine name, NetBIOS information, ping information, and MAC address.
Also included are a few other nice tools, such as the ability to shut down PCs remotely. And the Wake-on-LAN feature can wake PCs containing network cards that support the capability.
Download Advanced IP Scanner | Price: Free
Bandwidth Monitor 2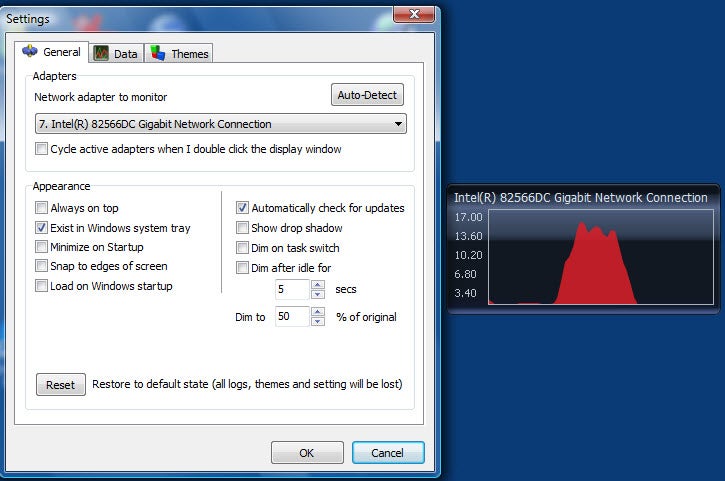 With this exceptionally easy-to-use free utility, you can find out how much bandwidth any PC on your network is using. Install it on any PC, and it displays a chart that details your bandwidth use in real time, covering download bandwidth, upload bandwidth, and the total used. In addition, it keeps logs of your bandwidth use, so you can have a historical record. Customizing the software is simple, too; for instance, you can change its skin or alter the time span over which it measures bandwidth.
Note that setting up the software might be confusing, because you'll have to choose from a long list of network adapters, not all of which may be on your system. Your best bet is to click the Auto-Select button; the software will then choose the proper adapter.
Download Bandwidth Monitor 2 | Price: Free
Network Magic Pro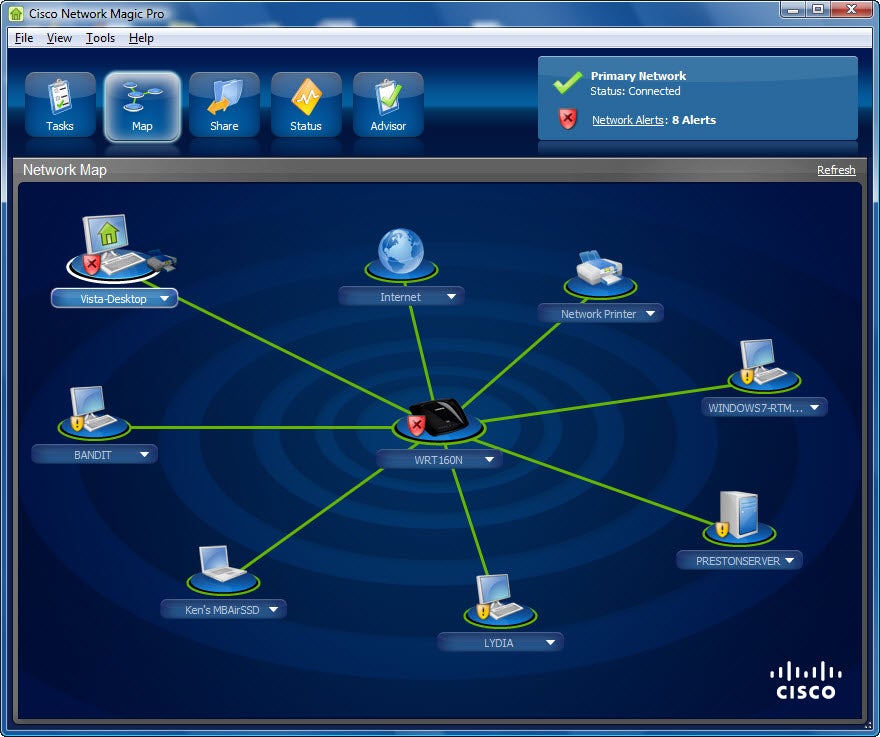 Network Magic is just about the best all-in-one tool you can find for managing a small network. Want to fix broken network connections, set up wireless encryption, share printers and folders among all your PCs, or get a report on the security of each PC on your network? It'll do all that, and much more.
Possibly the most useful part of the program is its network map, which is superior to the one that ships with Vista. It graphically displays every device on your network (including the printers and the router), shows you whether any of them are having problems (such as a lack of antivirus software), and provides extensive detail about each device. You'll be able to see the device name, its hardware and software configuration, its IP information, what security software it uses, and so on.
The software's Status Center shows the current state of your network at a glance, and it summarizes any issues. You can even see a history of each device's bandwidth use, as well as warnings about potential intruders.
Among other features you'll find an Internet speed tester, a wizard-based troubleshooter for fixing network connection problems. Parents will appreciate the ability to control Internet access on each computer, too. Network Magic can even send you daily e-mail reports about the activity occurring on networked PCs–which programs each computer runs, which Web sites it visits, how much bandwidth it uses, and when it is online.
At $50, Network Magic Pro isn't cheap, but it's well worth the money if you need comprehensive help with your network. If you're looking for something lower-priced, you might want to consider the $30 Network Magic Essentials, which supports fewer PCs and lacks network-attached-storage support and Internet-access controls. Also, if you have a Linksys router, even if you don't pay for any version of Network Magic, you can use Network Magic Basic, which includes the network map, some security features, and other useful tools.
Download Network Magic Pro | Price: $50; free 7-day trial
Paglo Crawler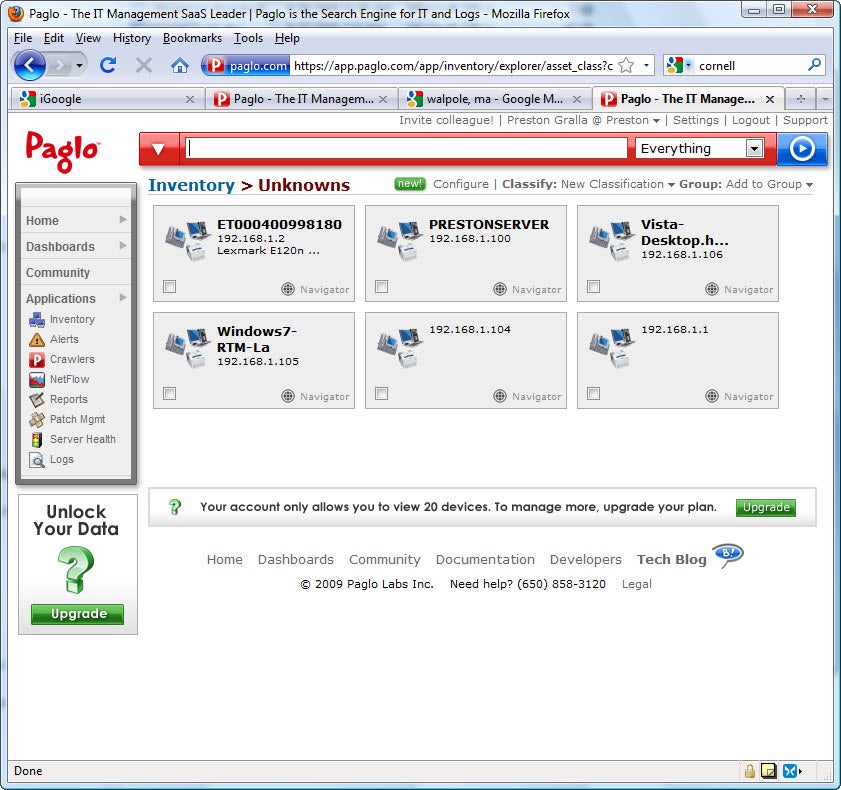 This nifty free networking tool, true to its name, crawls through your network, identifies every device, and gives you thorough information about each. It isn't suitable for networking newbies since it's somewhat confusing to decipher; but if you know your way around a network, you'll appreciate the level of detail it offers. For example, for each device you'll be able to view the NetBIOS name, the DNS information, the network subnet, and even the details about port numbers.
Note that to get information about your network you'll have to set up a free account with Paglo after you run the software–you then log in to your account to view your network information over the Web. The company also offers for-pay subscriptions that give you access to more information than the free account provides.
Download Paglo Crawler | Price: Free
Spiceworks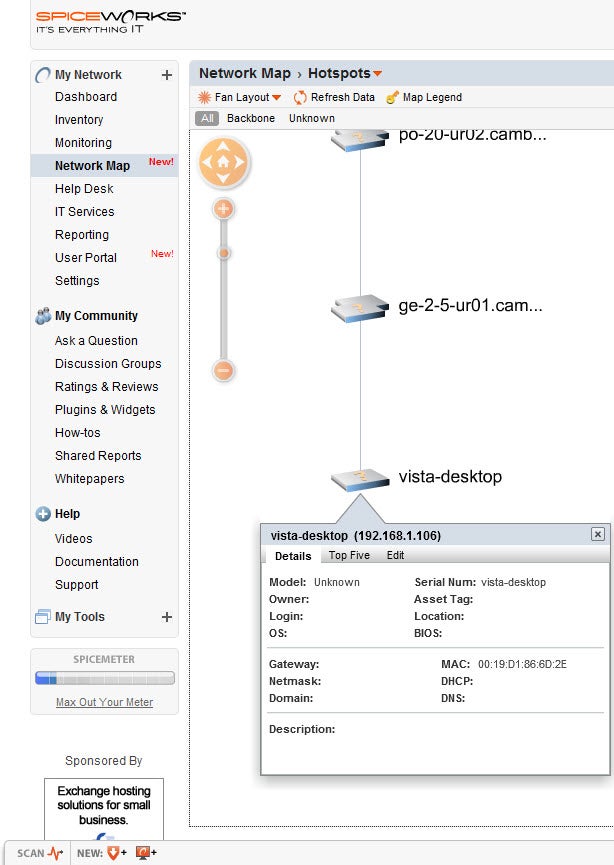 If you have a small-business network and little or no IT staff, this network inventory and management utility may be exactly what you need. Free and browser-based, Spiceworks not only provides detailed information about all of your network devices but also serves as an IT management tool, letting you create and track help-desk tickets to fix any network problems that people may have. It has a surprisingly full feature set for a no-cost piece of software.
In addition to performing a network inventory, it provides extensive information about each device, such as available space, total disk space, and what antivirus software is present; it even reports server-connection errors, and gives an inventory of the software installed on each device.
Since it's far more difficult to use than Cisco's Network Magic, it isn't really suitable for home users. And on my network, Spiceworks was not able to properly identify and name all of the devices. Still, you can't argue with free, and the program has quite a few useful functions.
Note: Though the program is free, it displays ads in the interface. If you want to eliminate the ads, you'll have to pay $20 per month.
Download Spiceworks | Price: Free (ad-supported)
WallCooler VPN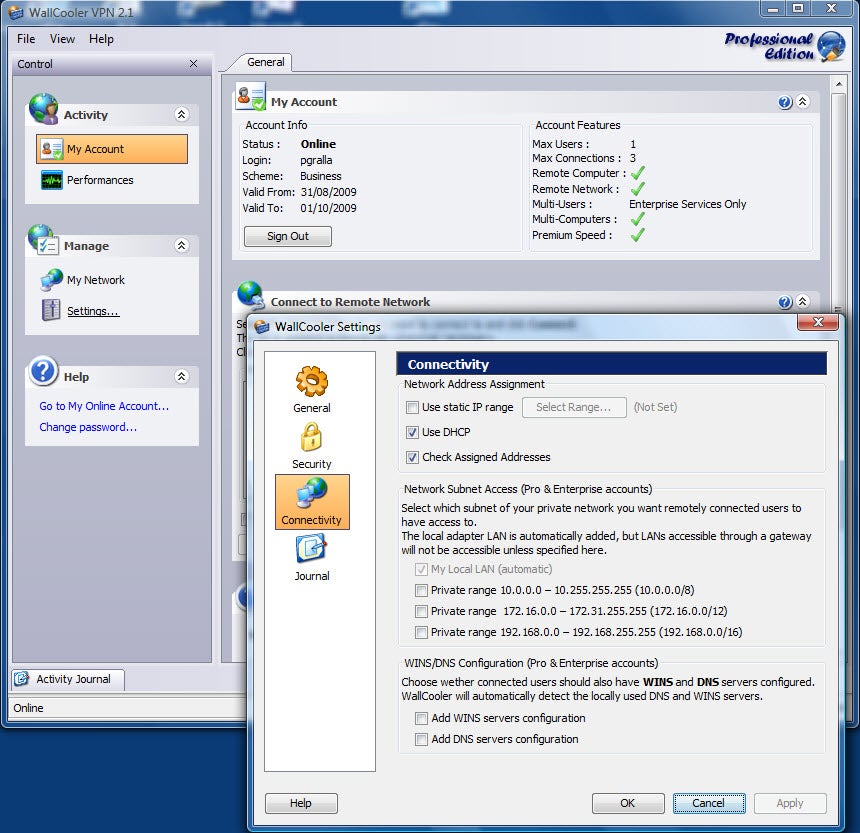 Have you ever needed to get access to your small-office network or home network when you're away from it–perhaps when you're at a Wi-Fi hotspot in a café, or when you're travelling on business? If so, you'll want to try WallCooler VPN, which promises to make a secure connection to your network and does so with ease.
If you've ever used virtual private network (VPN) software, you know that it's not always easy to work with. But WallCooler VPN is surprisingly simple. First, run the software on a PC on your network; then, when you're on the road and near an Internet connection, run the software on the PC that you want to use. You can then make the connection to your networked PC with a single click. The software invisibly takes care of the problem of dynamically changing IP addresses, an issue that often makes establishing remote connections difficult.
Once you're connected, you can take remote control of the PC on your network, just as if you were at its keyboard, and gain access to the network's resources, including shared files. The Personal Edition of WallCooler costs $5 a month. If you want access to remote printing and other features, you'll have to pay $16 a month for the Business Edition.
To take remote control of PCs, you'll first have to configure Windows' Remote Desktop Connection on each PC using the software; WallCooler VPN uses that to make connections. Also, if you run into problems, you may need to do some router configuration, but most of the time you shouldn't have to do that.
Download WallCooler VPN | Price: $5 per month (Personal), $16 per month (Business); free 14-day trial
Next: Network-Security and Wireless-Networking Downloads
Network Security
The number one fear for most network managers is a security breach. If you want to do everything you can to make sure your network is safe from intruders, give the following downloads a try.
NetBrute Scanner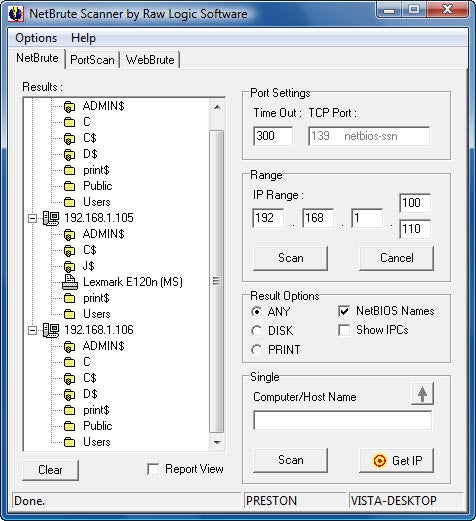 Shared folders and open ports are some of the biggest vulnerabilities of a network, yet many people who run networks–especially home and small-business networks–have no idea whether such weak points exist.
NetBrute Scanner will tell you, quickly. It scans your network for all devices, and then looks on those devices for shared folders and resources. You can either point NetBrute Scanner at a single computer (as long as you know its network address) or tell it to scan an entire range of IP addresses. I've found that when I instruct it to scan a range of IP addresses, it sometimes doesn't find all PCs; but when I direct it to a specific IP address, it always seems to do the job.
NetBrute Scanner will also check your networked PCs for open TCP ports, allowing you to see what Web servers, FTP servers, and similar software are installed. It will show you where your port vulnerabilities are, too.
Finally, the program includes a utility that examines Web servers on your network to see if intruders might be able to break into them by using a "dictionary attack"–that is, by trying combinations of user names and passwords to gain access to the Webmaster's account.
Download NetBrute Scanner | Price: Free
Paglo RogueScanner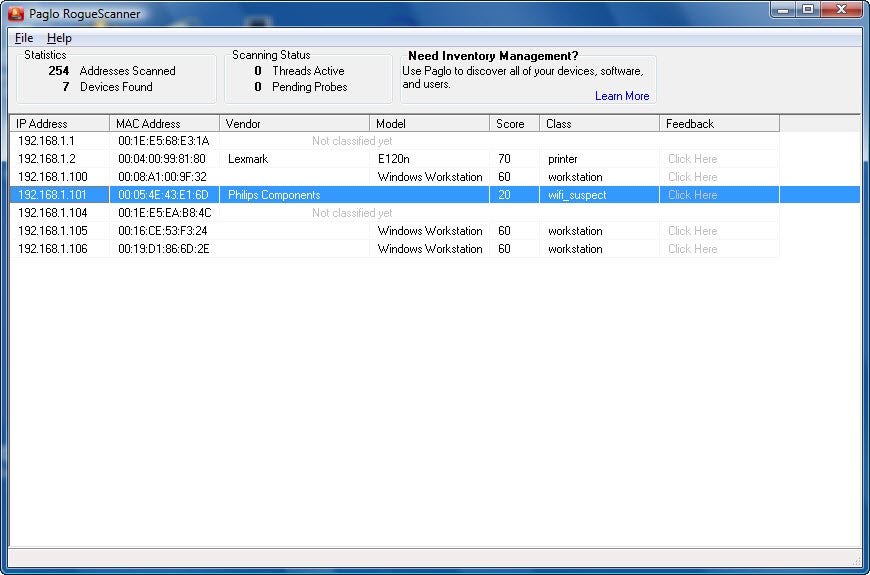 Anyone with a network should worry about intruders, who may sneak in and steal private information, plant malicious software, or generally wreak havoc. The problem is especially serious, however, for those with wireless networks, because someone could simply be across the street from your house, or in the parking lot of your place of business, and hop onto your network undetected.
The free RogueScanner identifies rogues that may have managed to hack into your network. First it identifies every device on your network and gathers as much information as it can about them, including their IP address and MAC address. It then tries to profile the device–is the device a printer, a workstation, or something else? The program sends all of that information to its server, which analyzes the devices and identifies those that could be intruders. The report ranks every device according to its potential for being a rogue, and flags any that might be rogues.
To best identify intruders, before running the scanner you should make a list of every PC and device on your network. Then you can compare that list against what RogueScanner finds, to see if it discovers anything you haven't accounted for.
Download Paglo RogueScanner | Price: Free
Wireless Networking
A wireless network can seem like the most frustrating and confounding technology on the planet. When it works well, you have nothing to think about. But if the connection is problematic, you can wind up spending many hours troubleshooting it, with no clue about what to do. That's where these downloads come in–both are great tools that can help uncover the source of the problem.
InSSIDer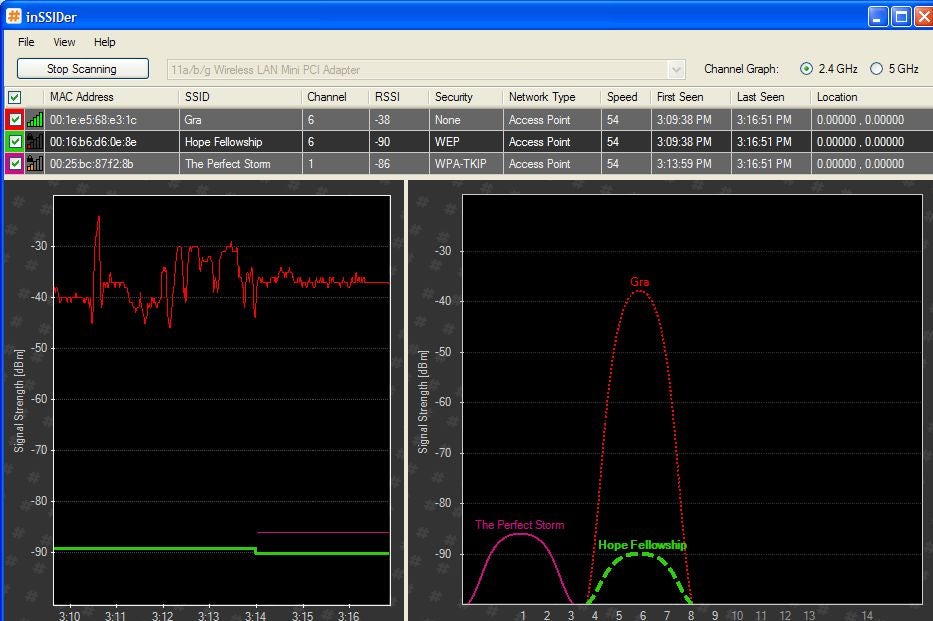 If your house consists of more than one story, or if the property is sprawling, you probably have dead spots where your wireless network doesn't have a strong enough signal. The same holds true for a small business–offices have the same problems as homes do.
This great piece of free software can help you troubleshoot wireless networks. The program finds all wireless networks within range of your PC, and displays their signal strength as it changes over time. The app also shows you the channels on which your wireless network is set. Why is all of that important, and how can you use it? First, try putting it on a laptop and walking around your house or office, and you'll see the strength of the network in different locations. Based on that, you can either relocate your PCs or relocate your wireless router, until you correct the problem.
In addition, since the program shows all wireless networks within range as well as on which channels they broadcast, you can look for network conflicts. For example, you might find out that on the top floor of your house, a neighbor's wireless network is broadcasting on the same channel as yours–and that its signal is stronger, causing no end of problems for your network. To fix things, you can change the channel that your router uses for transmission.
InSSIDer is one of the best utilities for troubleshooting wireless networks that you can find. That it's free makes it even better. One final note: You have to install this software on a PC with a wireless adapter; it won't work with PCs that are connected to a network via ethernet.
Download InSSIDer | Price: Free
WiFi SiStr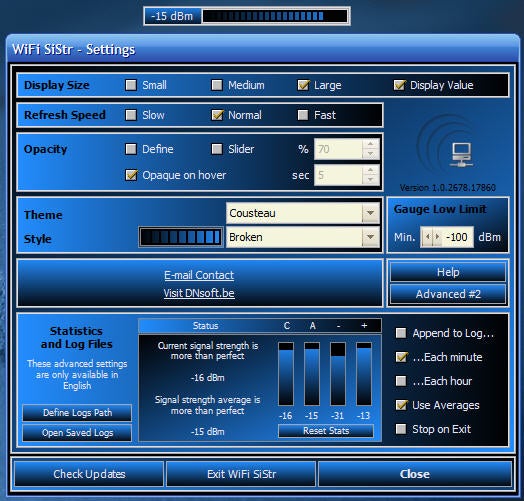 Here's another nice troubleshooting tool that's small and simple to use. It runs as a small display that you can place anywhere on your desktop, and it tells you the strength of your current wireless connection. As with InSSIDer, you can use WiFi SiStr on a laptop and inspect your house or office to discover dead spots or bad connections.
One nice touch is that the program can keep logs of your connection, so you can test out locations over time, not just for a minute or two. It also issues alerts if your wireless connection drops below a certain strength.
Download WiFi SiStr | Price: Free