The Nokia Booklet 3G netbook will ship with Windows 7 and cost €575 (US$816) before subsidies and taxes, Nokia announced on Wednesday at its World conference in Stuttgart, Germany.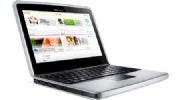 The company expects the device will be cheaper when it reaches consumers as a result of subsidies by network operators, Nokia Executive Vice President Anssi Vanjoki said during his keynote speech at the conference.
However, getting some operators to subsidize the netbook may be difficult, according to Geoff Blaber, analyst at CCS Insight. Nokia's plan to push a suite of its own online services with the Booklet 3G will not sit well with carriers offering competing services of their own, he said.
The device was announced on August 24. It should run for up to 12 hours on one battery charge, Nokia said. It weighs 1.25 kilograms, has an aluminum chassis and is slightly more than 2 centimeters thick. The device has a 10-inch screen with a 1280×720 pixel resolution, and can connect to bigger displays using an HDMI port, according to Nokia.
Under the hood there is a Intel Atom Z530 running at 1.6 GHz, 1GB of memory and a 120GB hard drive.
The Booklet 3G can access the Internet using HSPA (High-Speed Packet Access) mobile broadband or 802.11n Wi-Fi. There will also be a version that comes without a built-in modem.
It will ship during the fourth quarter, but Nokia didn't elaborate on where in the world it would become available.