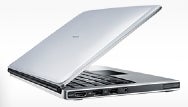 Nokia today revealed more details about the Booklet, the 3G-enabled netbook announced late last month, at the Nokia World conference in Stuttgart, Germany.
As predicted, the netbook will carry a hefty $800 price tag when it launches, and will come with Windows 7. The Booklet will be available in either black, silver, or blue. A range of Booklet accessories, including a Bluetooth headset.
Nokia also posted a hands-on video that offers a closer look at the Booklet:
Nolkia has yet to announce a specific launch date, but the 10-inch netbook is expected to debut in late October, around the same time as Windows 7.
Does the Booklet offer true innovation? Or is it just another average netbook? Is it really worth the considerably high $800 price point? Be sure to fire off your thoughts in the comments.
Follow Geek Tech and Chris Brandrick on Twitter.