If you listen to conventional wisdom you might think the traditional bedside clock radio was on its way out, since in many homes cell phones now rouse the sleeping from their beds. But a new gadget from Sony seeks to keep alarm clocks on the night table while bringing convenience to cell phone users.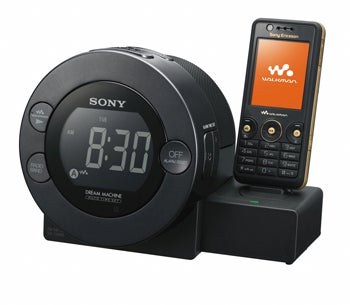 The ICF-C8WM, unveiled on Wednesday at the IFA electronics fair in Berlin, is an LCD bedside clock radio with cell phone dock.
A large digital clock occupies the center of its round face, and a Sony Ericsson cell phone or Walkman can be plugged into a connector on the right-hand side of the device.
This not only charges the phone, replacing the charger and cable that many keep next to their bed, but also means it's possible to wake up to music stored on the handset. For those who use their cell phones as music players this could be a good thing.
Pricing for the AM/FM clock radio wasn't announced at IFA, but Sony's Canadian Web site lists it for C$99.95 (US$90).