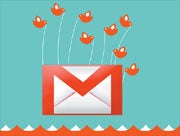 People are still steaming about Google's 100-minute Gmail outage this week. The company's Web-based mail service went offline Tuesday, leaving countless users without access and sending Twitter into a frenzy.
Google's official explanation blames a maintenance miscalculation for the glitch — engineers took some servers offline, it says, and inadvertently overloaded other servers as a result — and promises improvements to ensure the so-called GFail doesn't happen again. (The Google guys even refer to the incident as a "Big Deal," with capitalized first letters, so you know they must be serious.)
Despite the reassurance, plenty of people aren't satisfied. And, looking at the last few months, it's not hard to understand why.
Gmail, Gfail
Gmail seems to have suffered more than its fair share of outages lately. In May, a traffic routing error knocked the service offline for users across the globe, earning the hashtag "#googlefail" on Twitter. That crash came within weeks of several smaller outages, one just days earlier in May, another in mid-April, and another — this one lasting as long as 36 hours for some people — in March.
Then, of course, there was February, when Gmail was unavailable for about two-and-a-half hours for many users. (That one earned the nickname "the Great Gmail Outage of 2009.") Late 2008 saw several outages, too, including three in August and a 30-hour-long one in October.
Gmail Perspective
To its credit, Google has gotten far more transparent during these outages and the days that follow; its modus operandi used to be declining to comment on any specifics both during and after the fact. (Some other Web-based companies, unfortunately, continue to employ that approach.) Still, for a company that claims 99.9 percent uptime, we sure have seen a lot of down hours.
In the end, despite the well-warranted frustrations, I don't think anyone foresees any mass Gmail exodus occurring. Some people, however, are certainly starting to think about jumping ship. Will we actually reach the point where that happens on any significant scale? Only time — and Gmail's future performance — will tell.
JR Raphael shows his less serious side at eSarcasm, his new geek humor site. You can also catch him on Twitter: @jr_raphael.