The Nokia Booklet 3G netbook may have some clever innovations, including mobile broadband and a 12-hour battery, but its steep $816 price tag will drive customers away.
There's little doubt that netbook sales are booming. According to market researcher DisplaySearch, the mini-note PC (netbook) market in 2Q 2009 grew 40 percent over Q1, nearly double the growth rate of larger notebooks.
Obviously, consumers have taken to netbooks in a big way, and they may fall in love the look of the Booklet 3G, with its sleek aluminum chassis and 10-inch high resolution display. But when they see the Nokia's price tag, they'll opt for a more pedestrian Acer, Asus, HP, or Samsung netbook, all of which are priced between $350 and $500.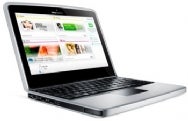 The Booklet's key specs are fairly average as netbooks go: A 1.6GHz Intel Atom Z530 processor, 1GB of memory, and a 120GB hard drive. That's on par with netbooks that cost hundreds of dollars less.
You can sum up the netbook's allure in two words: small and cheap. The Booklet 3G may be small, but it's no bargain. In fact, its price matches that of far more powerful notebooks. Example: The HP Official Store sells a Pavilion dv7t notebook with a 2.1GHz Intel Core 2 Duo T6500 CPU, a 17.3-inch display (1600 by 900 pixels), 2GB of memory, and a 250GB hard drive for $800.
Now, I realize this may be an apples-to-oranges comparison, and that consumers shopping for a netbook may not want a full-size system like the Pavilion dv7t. But they will compare prices as they browse the netbook lineup at the local big box, and they'll wonder why the Booklet is priced so high.
Naturally, wireless carrier subsidizes will whittle down the Booklet's price, but Nokia's netbook will likely still cost more than competing mini-notes. Even if it runs $400 to $500 with a two-year mobile broadband contact, other subsidized portables will go for less than $200. In fact, some carriers like Verizon have begun offering free netbooks to new subscribers.
The Nokia Booklet 3G may be superior to its competitors, but in the small-and-cheap world of netbooks, being the premium choice may prove a liability.
Contact Jeff Bertolucci via Twitter (@jbertolucci ) or at jbertolucci.blogspot.com .