A Taiwanese research group unveiled a personal Internet device (PID) on Thursday made from its WiMax chips and a reference board that runs a version of Google's Android mobile operating system tweaked for PIDs.
The publicly-funded Industrial Technology Research Institute (ITRI) developed the mobile device to show off its chip kit, a complete working circuit board with several chips, designed for WiMax high speed wireless connectivity.
The PID mimics what Intel has tried to popularize with its MID (mobile Internet device) idea, a mobile device similar to a smartphone but made for Internet use, not phone calls. The main difference between a PID and an MID is that the PID uses microprocessors from Arm Holdings instead of Intel. ITRI also tweaked the Android operating system on board so it works specifically for PID devices and WiMax.
"We chose Android because we didn't need to do a lot of additional work on it. The kernel is there, the software is already done. We just optimized it for our PID," said Wu Cheng-wen, general director of ITRI's SoC (system-on-chip) Technology Center. ITRI spent nearly a year tweaking the Android OS on the board and will pass it out freely to developers.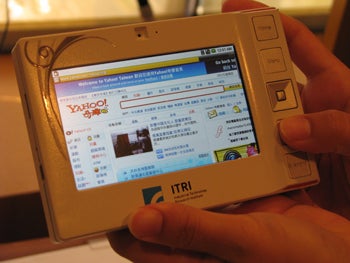 The WiMax chip inside is the MIMO (multi-input, multi-output) chip designed by ITRI to reduce costs for WiMax device developers. Other chips on the circuit board include an ARM926 microprocessor and two digital signal processors.
The PID is designed as a mobile multimedia device with high definition video capability, according to ITRI. Researchers showed the PID in action at the event, to watch TV, surf Web sites, play games, download videos and more. The group believes it could be popular for Location-based Services as well.
The Android+WiMax PID was developed in part for the M-Taiwan (Mobile-Taiwan) program aimed at ensuring people all over Taiwan, including remote mountain villages and offshore islands, will be able to access the Internet wirelessly. WiMax has been promoted globally as a speedier replacement for the Wi-Fi technology found in coffee shops and elsewhere. Taiwan has been on the forefront of investing in and promoting WiMax technology for use in Taiwan and to boost production of WiMax devices among the island's manufacturers.
"We want to see WiMax used everywhere in the future, not just in PCs," said Wu.
ITRI is seeking companies interested in using the chips and its PID idea in products. Taiwan Semiconductor Manufacturing (TSMC) is manufacturing the chips for ITRI.