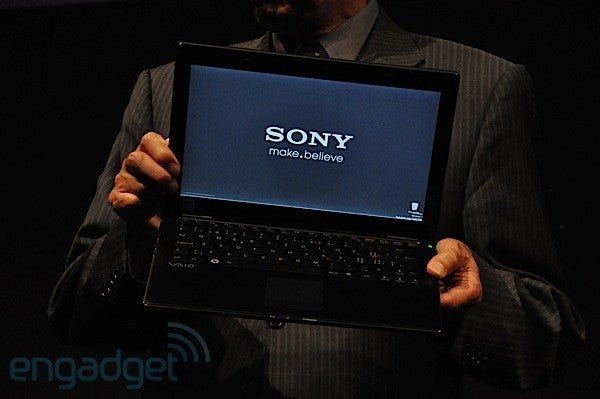 Sony was showing off its latest lightweight, ultra-slim laptop earlier this week at the IFA consumer electronics trade show in Berlin. The Sony Vaio X is being billed as the successor to Sony's 2004 Vaio X505–a forward thinking laptop that was thinner than the MacBook Air. Sony says nothing is set in stone as far as specs are concerned, according to Engadget, but here's what I was able to cobble together based on a variety of reports:
Weight: 1.5 pounds
Thickness: 0.5-inch
Screen: 11.1-inch backlit LCD screen in either matte or glossy display
Processor: Intel Atom (could change to CULV)
Storage: 120 GB hard disk drive (HDD), according to Sony Insider
Memory: 2 GB RAM
Ports: 2 x USB; Ethernet; SD card reader; Memory Stick Duo slot; VGA output; headphone
Battery: 31Wh battery that "will set the new standard for stamina."
Body material: Carbon Fiber
Operating System: likely Windows 7
Cost: rumored to be under $2000, according to Slash Gear
Availability: likely the week following the October 22 launch of Windows 7.
Since there's no official word about this laptop yet, the above specs should be treated as rumor until we have a finalized device from Sony. The look of the Vaio X is very nice, but Sony may end up delivering nothing more than an over-priced Atom-based laptop. Atom processors are typically found in low-powered netbooks, like Sony's Vaio W series, which sells in the $500 range. With Sony talking about a price tag under $2000 for the X series, this ultra-slim laptop may not come cheap.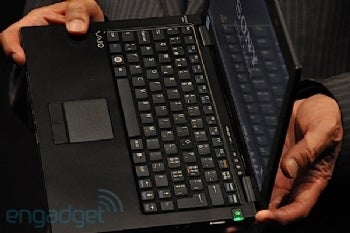 A high price tag won't help against the competition either, since the X Series looks poised to compete against devices like the MacBook Air. Apple's ultra-slim laptop has two models that sell between $1500-1800; however, the Air sports a faster Intel Core 2 Duo processor as opposed to the X's current Atom CPU. If Sony really wants to compete against the Air it looks to me like they have two choices: price this device below $1000 or bump up the processor specs.
Take a look at this video from Netbook News to see the Sony Vaio X in action.