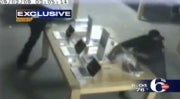 Five masked men pulled off a well-executed smash-and-grab at an Apple Store in Marlton, New Jersey earlier this week. The perps got away with a massive load of merchandise including 23 MacBook Pros, 14 iPhones, and nine iPod Touches. Around 2 a.m. on Wednesday, five men broke into the Apple Store, Sagemore by smashing the plate glass door with a brick. The men then ran into the store, grabbed the merchandise and left with their booty in just 31 seconds.
Without knowing the specs of the devices it's hard to know the total value of the stolen equipment, but the criminals must have left with at least $40,000 worth of merchandise. But will they get away with it
The anonymous bad guys might have the upper hand for now, but you can bet Apple has the serial numbers for these devices as well as other identifying information in a file somewhere. So if these devices ever appear at a Genius Bar, the identities of the masked men may be uncovered. But what if Apple was able to capitalize on its "Back To My Mac" and "Find my iPhone" features to unmask the thieves?
Last year, Kait Duplaga of White Plains, New York was able to retrieve her stolen MacBook thanks to the Back to My Mac feature. Duplaga was able to remotely take a picture of one of the thieves using her stolen laptop's iSight camera, which lead to two arrests and the recovery of her laptop.
Several Find my iPhone success stories have also been reported, but it's unlikely the Apple Store's stolen iPhones will be retrieved using the feature since the Jersey devices probably aren't connected to the AT&T network. But that may not matter, according to ZDNEt's Adrian Kingsley-Hughes, who says the in-store iPhones he's seen always have the SIM card tray glued shut, making them useless for resale.
Both Back to my Mac and Find My iPhone require activation through Apple's Mobile Me service, and it's unlikely the stolen devices are Mobile Me-ready. In the end, Apple will probably have to write the devices off as a loss.
Connect with Ian Paul on Twitter (@ianpaul).