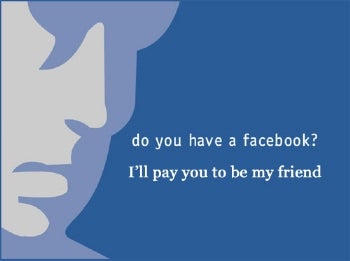 Are you totally reprehensible and feeling lonely? Or maybe you're just a struggling business looking for some instant online companionship? The firm Usocial has the answer for you — buy Facebook friends and fans.
For a piddling 7.6 cents per friend, Usocial will deliver 5000 new buddies to your Facebook account. That's $654.30 worth of lovin' from people you'll never meet and who aren't concerned whether you live or die.
If having Facebook fans is more up your alley, you can buy 10,000 of those for 8.5 cents a pop, which comes to a meaty $1167.30. How's that for a Facebook status update? Thumbs up?
Usocial claims that each Facebook friend is worth $1 to your business in return revenue. The idea is that Usocial creates a Friends List of potential customer to market to via Facebook updates and mail. With Facebook friends like that, who needs spam?
I couldn't find information on becoming a "member" and selling your friendship. I suspect all these Facebook users selling their accounts to Usocial are normal well adjusted Internet users looking to form a meaningful relationship with a couple hundred marketers.
Earlier this year Usocial sold off Twitter followers for those who are so dreadfully boring they cannot garner interest in themselves. Usocial also allows you to buy Diggs and buzzes on Yahoo! Buzz. The rates: $150 for 3,470 Digg votes or 1084 Yahoo Buzz votes. Usocial has stopped taking orders on this, though explaining it is "clearing an order queue … due to payment processing errors"
Branching out beyond the mega-popular social networking giant Facebook seems like a logical move. But what is Usocial's next move?
I suggest selling AOL Buddies. Forget Facebook and Digg — just send me pre-packaged IM friend to keep me preoccupied at work while I'm supposed to be doing work. We can talk about everything from the weather to CNN headlines to the crushing anxiety wrought from sleeping alone every night for the past 27 years.