Because I'm perfect in every way, I've never, ever forgotten to attach a file to an e-mail. But I've been on the receiving end, and nothing beats the feeling of superiority that comes from composing this reply: "You forgot the attachment, doofus!"
To avoid e-mail smackdowns like that, consider installing a plug-in that alerts you to forgotten attachments (the digital equivalent of showing up at someone's door without any pants).
These tools scan your outbound messages for keywords like "file," "attached," and "attachment." If they detect such a word but there's nothing attached, you'll get an alert–thus allowing you to attach the intended file and avoid future embarrassment.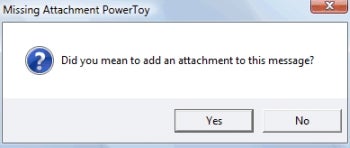 Outlook 2007 users can grab the Missing Attachment PowerToy, or the much more robust Forgotten Attachment Detector (which supports custom keywords and can even warn you about blank subject lines–another e-mail no-no).
If you're using an earlier version of Outlook, Attached4Sure supports all versions dating back to 2002.
Finally, Gmail users can venture into the Google Labs to enable Forgotten Attachment Detector (no relation to the eponymous Outlook plug-in).
Best news of all? Every single plug-in listed here is free.