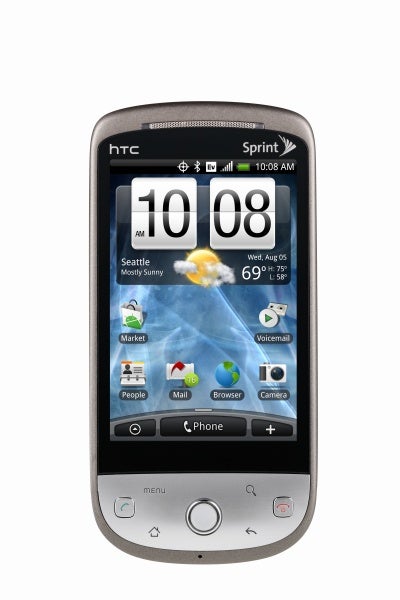 The third Android phone to land in the US, the HTC Hero, has been confirmed for an October 11 launch date on the Sprint network. While the Sprint-branded version gets a slight redesign from the European version, that's not the biggest surprise here. Priced at a cool $180 with a two-year contract, the HTC Hero is less expensive than the Palm Pre (also on the Sprint network) and the T-Mobile myTouch 3G (also on HTC-made Android phone), which are both $200, respectively.
The Hero's price point is a wise decision on Sprint's part and makes them a direct threat to T-Mobile's Android stronghold. While the myTouch 3G and the G1 are solid phones, they just can't compete with the Hero's 3.2-inch multitouch screen, 5-megapixel camera, and speedy 528-MHz Qualcomm processor. And its eligibility for Sprint's ultra-affordable $100 Everything plan makes the Hero all the more desirable over the myTouch 3G.
The Hero also boasts the Sense UI overlay which makes the Android OS more attractive and intuitive to use. First impressions of Sense were not so positive, however: It was reportedly quite sluggish and frustrating to use. Fortunately, HTC has released a firmware update overseas that fixes these issues; hopefully, the Sprint phones will have this update at launch.
The corners on the Sprint-branded Hero are much more rounded and it no longer has the trademark HTC chin (also seen on the T-Mobile G1). The hardware buttons are rearranged and now surround the navigational pad rather than placed above it. Whether or not these tweaks change the phone's dimensions remains to be seen. Perhaps my favorite spec, however, is the inclusion of a standard 3.5-mm headphone jack. I was getting tired of knocking previous HTC phones for not having one.
Other than these tweaks, the specs remain the same as the overseas version. It has GPS, Bluetooth and Wi-Fi connectivity and HTC's geotagging software, Footprints. Oddly, HTC and Sprint's announcement makes no mention of a Flash-supported browser even though this was one of the biggest draws of the European version.
Motorola will be the next manufacturer to launch an Android phone in the US. Expected to make an announcement next week, the rumor mill has been buzzing about the possibility of both a CDMA handset as well as a GSM version. It will be interesting to see what spin on Android Motorola brings to the market and how competitive the carriers' pricing will be.