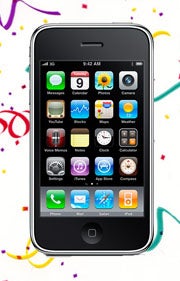 AT&T, everyone's favorite phone company to hate lately, has finally set the date for MMS availability on the iPhone. Multimedia messaging will debut for U.S.-based iPhone 3G and 3GS users on September 25, AT&T says. All you'll have to do is download a software update, and you'll be in business.
While some are sure to start doing the samba in excitement, I have to respond with a sarcasm-soaked, upward-inflection-ending: "Yay?" The reason for my subdued nature (aside from my general surliness toward phone-related salivation): Sure, MMS functionality is something iPhone users have been clamoring to get for ages. But it's also something that should have been introduced — well, ages ago.
AT&T and iPhone MMS
Even if you accept that the iPhone operating system didn't, for whatever reason, support the seemingly basic function of MMS until this June's 3.0 release, that's still a solid three-and-a-half months AT&T's been dragging its feet on making the service available. Back in June, AT&T said the "finalizing [of] internal system upgrades" was causing the hold-up. Elaborating a bit more, the company now explains the delay this way:
"The unique capabilities and high usage of the iPhone's multimedia capabilities required us to work on our network MMS architecture to carry the expected record volumes of MMS traffic and ensure an excellent experience from Day One."
(Side note: The first-letter capitalization of "Day One" appears to suggest 9/25 will be some sort of holy, proper-noun-worthy holiday. As such, I'll be taking the day off.)
Whether you buy AT&T's explanation or favor the slightly less PR-friendly alternative offered by The New York Times, one thing is clear: Something as simple as multimedia messaging should have been available long ago, and its overdue arrival isn't exactly cause for celebration.
And Then There Was Tethering
Adding insult to injury is the lack of information on tethering, another long-requested feature officially made available with the iPhone 3.0 update but yet to be activated by AT&T. Thus far, AT&T's remained tight-lipped about what's up in that department, and — despite this week's MMS announcement — that silence has not been broken.
Tethering, in case you aren't aware, is a process that lets you use your cell phone to connect a laptop to the Internet. For anyone keeping track, AT&T first officially confirmed it was "coming soon" to the iPhone back in November of 2008. That revelation followed a teeter-tottering of tethering availability in the App Store: A third-party utility called NetShare allowed it for a while, until Apple removed the program, put it back a day later, then removed it again (all, in typical Apple fashion, without offering any explanation). Even more perplexing: AT&T does offer tethering on other handsets.
"MMS is surely the tip of a much larger iceberg that AT&T cannot seem to steer away from fast enough," writes Macworld's David Chartier, summing the issue up nicely. And, he adds, "the fact that AT&T is waiting until the absolute last minute of its self-imposed 'by late summer' deadline may not comfort many who have already lost faith in the carrier's ability to meet demand."
Decisions, Decisions
Maybe you disagree and are pleased as punch with your service. If so, congrats; have a soda on us. If not, you can always hold out for the (undetermined) day the iPhone reaches other carriers — or, dare I say it, consider one of those "other devices." You know, the ones without the fruit-based logo.
JR Raphael calls things as he sees 'em at eSarcasm, his new geek humor site. You can keep up with him on Twitter: @jr_raphael.