If you find yourself doing the same tasks over and over again in Firefox, maybe it's time you automated some of those things. Free add-on iMacros for Firefox records your keystrokes and actions and saves them as macros. Then you can then perform recorded tasks with the click of a button.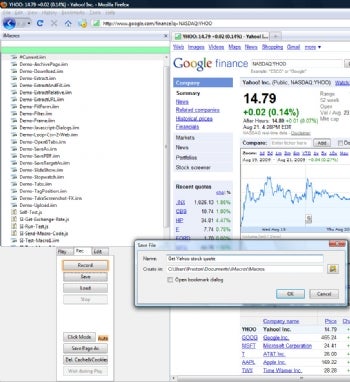 Click the iMacros button in the Firefox toolbar, and the add-in appears in the Firefox sidebar. To record a macro, click the Rec tab, then click Record. When you're done recording, click Stop, give the macro a name, and your work is done. The macro will now appear in a list, and you can run it by highlighting it, and clicking Play in the Play tab. To get you started, iMacros comes stocked with pre-built macros, which appear in the Play tab. When you add your own, they appear in that tab as well, and you can see dozens at a time .
What can you do with iMacros for Firefox? Things as complicated as logging into a webmail account like Gmail and creating a blank e-mail, or as simple as checking stock quotes. Users comfortable with scripting can make it do more as well, because you can tell it to perform more sophisticated tasks, such as performing automated, in-depth testing of Web sites. In addition, you can use it in concert with other scripting technologies, such as Windows Scripting Host, and so you can call scripts created with iMacros from inside other scripting tools. But it's simple enough to use so that anyone can create basic macros for tasks such as checking email and getting stock quotes.