Sifting through all of the free sites and services available on the Web, you've probably come up with some favorites, such as instant messaging tools or video streaming sites like Hulu. Those are great, but what about freebies that displace something for which you usually pay? Think beyond free antivirus software and other no-cost PC utilities–how would you like free long-distance calling, MP3 downloads, e-books, and text messaging? I'll show you how to score those and more.
Some of these offerings, such as free services for making and receiving faxes, are for an introductory level of a paid product. Others are ad-supported or public services. But each one is a compelling way to get something, for free, that ordinarily costs you money. In many cases you'll get just as much as what you used to pay for–or more.
Make Free Long-Distance Calls
Sure, you can voice-chat around the world through Skype and other services. But Talkster lets you reach out and touch an actual telephone in addition to online calling options.
Free long-distance and international calls are worth putting up with a couple drawbacks. The service requires you to perform a convoluted dialing procedure: It gives you a special local number to reach a faraway friend, and your pal gets a local number too. You dial your local number, after which you have 10 seconds to tell your buddy to call back on their local number. You stay on the line and wait while they hang up and dial back.
You might hear an ad while waiting to connect again, but the two of you can talk as long as you want after the hook-up is complete. I thought calls sounded good, although one call recipient questioned the quality.
Send and Receive Faxes, No Fees Involved
Do you need to send faxes just once in a while? Ditch the fax machine and the trips to Kinko's, and use free-to-try online services such as Qipit and FaxZero.
Qipit lets you send up to five faxes each week for free. You can upload JPEG images or even send them directly from a camera phone. Free faxes include a header banner that mentions Qipit.
FaxZero limits you to two faxes of three pages each day, and its transmissions include a FaxZero-branded coversheet. But instead of sending images, FaxZero takes PDFs and Word documents, making it a better choice for PC-based use.
You can even cancel your dedicated incoming fax line and have people send physical faxes to you online. eFax Free handles everything, digitizing faxes and routing them to your e-mail account. You get a free phone number that is connected to eFax and is always listening for incoming calls.
eFax Free has a few limitations, however. You don't get to pick an area code for the incoming number, and you can't receive more than 100 pages each month. Plus, you have to read faxes in an eFax application, in its proprietary .efx format. (Paying subscribers can select an area code, receive more faxes, and read them as PDFs.) But for moderate use, eFax Free works well.
Videoconference for Free
Most chat and videoconferencing programs are free when your conversation remains between two people, but they charge you to add more. Instant messaging and videoconferencing tool TokBox blasts past that limitation, restricted only by your bandwidth.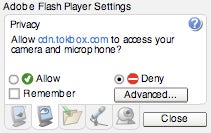 When you begin a videoconference in TokBox, you can automatically add contacts who are on AIM, Yahoo Messenger, and other supported services. Even better, however, your contacts can join the videoconference in a Web browser, just by following a URL. They don't need to install an application, and the TokBox Web site automatically interfaces with each PC's Webcam. Just start a conference, and click Invite, Share Link to get the URL.
Make Free Conference Calls
Running a meeting on a shoestring? Just want to organize a family call across the country? Rondee provides free conference calls for up to 50 people, and it offers several great extras.
You can launch a conference call immediately, simply by notifying your participants and giving them a Rondee PIN. But if you plan a call in advance, the service will send calendar-compatible e-mail invitations (with all call-in details) and make a list of replies. It'll even provide a nonspeaking access code, too, so that you can invite people to listen but not talk.
You can activate voice recording for calls planned in advance, as well. After everyone hangs up, participants receive e-mail instructions for downloading the meeting as an MP3 file.
Use a No-Cost Directory-Assistance Service
Does your mobile phone carrier gouge you for directory-assistance calls? Instead of dialing 411, try Google 411. Dial 800/466-4411 (800/GOOG-411). The voice-recognition tool looks up numbers, addresses, nearby businesses, and more for free.
Next: Free Services for Taking Notes, Working With Files, and Grabbing E-Books and MP3s
Automatically Transcribe Voice Notes for Free
You probably have your phone handy more often than you have paper and a pen nearby. If inspiration hits, you could thumb-in text notes on your handset–or, better yet, try reQall for automatic voice transcription.
You call a special phone number and speak your message (up to 30 seconds), and reQall writes it down. Depending on what you say, it will even store your notes contextually, adding items you want to buy to a shopping list or scheduling meetings in your calendar, for example. But I like it just as much for recording my random notes and automatically e-mailing them to myself–or my contacts–without having to type.
Turn Scanned Docs Into Text, at No Cost
OCR (optical character recognition) turns pictures of text into a document that you can edit. For example, you could read a photo of a book page, but OCR software lets you perform searches on that page's contents or make changes to it in any text editor. Typically you have to pay for such software or get it bundled with a scanner you purchase, but you can access free OCR tools online.
OCR Terminal can import 20 pages of documents each month for free. Just upload your items as PDFs or JPEGs, or in other image formats, and it will convert them to Word, text, and other document formats. Then you simply download the best format for your needs, and use it as you would any other document.
Read Free E-Classics
Because copyrights eventually expire, anyone can (re)publish works by William Shakespeare, Mark Twain, Jane Austen, and countless other writers. In general, if you're paying for material that was written before 1923, you're being fleeced. Instead, download thousands of classics for free, for use on your computer, phone, Kindle, or other device.
Project Gutenberg houses 30,000 free e-books and includes links to a total of 100,000 hosted on other sites. Just search the site for a title, or browse the top 100 downloads to get a sense of the catalog. Download books in a format that your device can read, and transfer them over. You'll gain access to a deep library without paying a cent.
Beat the Text-Messaging Swindle
Stop paying to send text messages. Several free options can transmit them from your PC or phone; just make sure to keep your missives under the 160-character limit.
Within AIM, you can send a message just by chatting with the country code and mobile number of a friend. For example, you can send text to the number of a pal in the U.S. in the format +12223334444. Your friend can reply, and the text will route to your chat program. It works even if you're chatting directly on a phone's mobile client.
In a Web browser, try txtDrop or Krypton. For the former, you just enter your address and the recipient's number. For the latter, you need to know the recipient's carrier, but the iPhone-friendly formatting looks great on many handsets.
If you know your friend's carrier, you can also send a text through e-mail. Enter your friend's mobile phone number and then the domain suffix for the carrier. For example, e-mail messages sent to 2223334444@txt.att.net, 2223334444@messaging.sprintpcs.com, and 2223334444@vtext.com would reach AT&T, Sprint, and Verizon, respectively. Visit Wikipedia's list of carriers for details about other services. Note, however, that the recipient might have blocked incoming texts from any of these sources to shut out spam messages.
Store Large Files Online for Free
Most e-mail servers choke on messages that are 5MB, 10MB, or larger. You could sign up for a range of free sites that offer to host bigger files, but Drop.io beats all of those since it hosts files and doesn't make you go through any sign-up process.
You can upload attachments of up to 100MB, and you can even customize the resulting URL. Afterward, simply send the link to your contacts so that they can download the files. (Be sure to click Share, Zip File at the top to make the whole package downloadable at once.) Downloaders can even leave notes and collaborate in other ways.
Download Free MP3s
Downloading an MP3 for free is often perfectly legal. With just a little scrounging, you can score tracks from many legitimate sources.
Check music stores first. Amazon, Rhapsody, and others regularly offer free tracks by familiar musicians.
Music blogs often post free tracks, many of which come from record labels for promotional purposes. Visit Elbows, RCRD LBL, and Stereogum regularly for frequent freebies.
The Internet Archive hosts thousands of live music performances, recorded by and for fans. You'll find old and new favorites, including concerts by Ryan Adams, Andrew Bird, Cowboy Junkies, the Grateful Dead, Smashing Pumpkins, and many more.