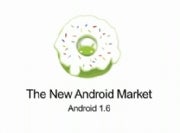 In a bid to compete more squarely with Apple's App Store, the developers of the Android mobile OS are improving the way people browse for applications on Google phones through what is known as Android Market. As part of a software upgrade (Android 1.6, aka Donut) Android handset owners will be able to browse more easily third-party apps by previewing screen shots of apps and sort apps by criteria such as most popular and newest. There is no official date set for the release of Donut.
Google announced update to Android Market in a blog post late Thursday stating upgrades to its mobile applications store will "improve the overall experience for users." Despite the update, improvements are also likely to irk some Android developers who feel the Android 1.6 doesn't go far enough.
What's New at Android Market
Navigation is key for the tweaked marketplace, which must be viewed on a mobile phone if you want to see the complete store and the new improvements. The main navigation buttons for Apps, Games, and Downloads have been moved to the top of the screen, leaving valuable screen space for featured apps. When you are shopping for programs in category view, three buttons at the top of the screen will also let you filter apps by Top Paid, Top Free, and Just In.
Other improvements to Android Market include screenshots to get an idea of what a particular application looks like, promotional icons, and longer descriptions from developers. There are also four new sub-categories to improve navigation including sports, health, themes, and comics.
Cranky Developers Not Satisfied with Update
Google's tweaks come on the heels of recent criticisms over Android Market's profitability for third-party developers. On Monday, the metrics firm Ad Mob released a report claiming Android Market t
ypically produces $5 million in sales every month versus $200 million at the iPhone App Store.
One complaint takes issue with Android Market's payment options and Google's return policy. Currently, all Android users must purchase apps through Google's own payment system Checkout. But according to a recent IDG report, some developers would like to see other payment options that users might find more convenient. Developers are also up in arms over Google's 24-hour return policy, which they say makes it too easy for users to return an application after using it for just a few hours. Apple's App Store, by comparison, does not grant refunds for any reason except in cases where a purchased product is not delivered within "a reasonable period."