Apple is working already on a fix for various problems Snow Leopard users ran into after updating to the new operating system. Only a week after introducing Snow Leopard, Apple began seeding to developers an update addressing stability and compatibility issues.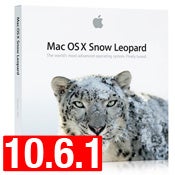 As with any operating system upgrade, many users reported various problems with Snow Leopard. But Apple has already many fixes prepared and is testing them with the developer community, the World of Apple blog reports.
Before the Snow Leopard 10.6.1 update goes out to the general public, developers are getting a taste of the 71.5MB build, which according to the blog includes the following fixes:
compatibility with some Sierra Wireless 3G modems
an issue that might cause DVD playback to stop unexpectedly
some printer compatibility drivers not appearing properly in the add printer browser
an issue that might make it difficult to remove an item from the Dock
instances where automatic account setup in Mail might not work
an issue where pressing cmd-opt-t in Mail brings up the special characters menu instead of moving a message
Motion 4 becoming unresponsive
Also, the 10.6.1 Snow Leopard update is set to address the Adobe Flash vulnerability concerns that surfaced on Thursday. Snow Leopard downgraded users' Adobe Flash player without their knowledge, leaving them vulnerable to attacks. The 10.6.1 update will fix this issue and will install the latest version of Adobe Flash, 10.0.32.18.
It is yet unknown when the Snow Leopard 10.6.1 update will be released to the general public, but expect it to arrive in your Software Update sometime within the coming week.