You've heard about it, wished for it and now it's here for a limited time only: the almost-$99 iPhone! I know, I know, it sounds too good to be true, right? Not at all!
To get in on the action you just have to get down to your local Best Buy and meet a few requirements: you must be an existing Best Buy Premier Silver Reward Zone member as of February 21, 2009 (sorry, a new membership won't cut it); you have to purchase the phone in a Best Buy store between now and Saturday, February 28; and you have to sign up for a new two-year contract with AT&T (no upgrades). If you are able and willing to meet those requirements, then you, too, can fork over $99.99 for a 8GB iPhone, or $199.99 for a 16GB iPhone, from Best Buy.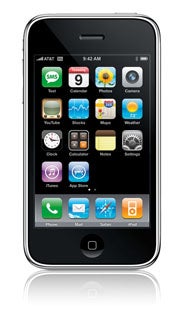 All kidding aside, this is actually a really great deal.
The $99 iPhone has become something of a myth, and even though it has never materialized, many pundits and business analysts believe a cheapo iPhone would be an immediate game changer for tech and other industries.
However, the $99 iPhone is usually envisioned as a stripped-down 4GB Nano-type iPhone. Best Buy, on the other hand, is letting you get your hands on 8GB of full-featured iPhone goodness for just $99.99.
If you've been holding out for a cheaper iPhone, and happen to be a Premier Silver Reward Zone member, then now is your moment in the sun. Then again, you might want to hold off until later in the year when, rumor has it, Apple might reveal an upgraded iPhone or even an iPhone Nano. Then again, maybe you'd better ignore the rumors and head over to Best Buy before it's too late.