Aurora Feint II: The Beginning starts with a puzzle game along the lines of Bejeweled, and adds social and role-playing features to end up with a fun and addictive iPhone/iPod Touch game.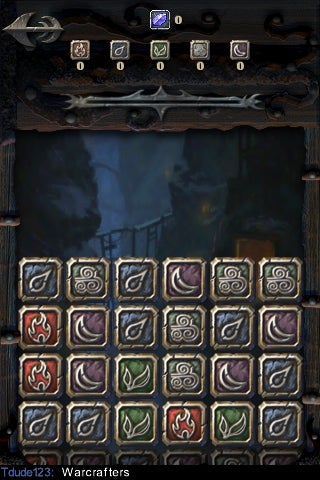 The base puzzle game involves gathering resources via the familiar chain-building of matching three or more game pieces to make them disappear. In this Mining section of the game, creating successive matches using the game pieces above a previous match builds up multiples that improves your score.
Aurora Feint adds a literal twist by allowing you to turn your phone around and have the game change direction accordingly. Held upright, the game pieces rise from bottom to top. Tilt to landscape mode, and the pieces will all fall to the new 'bottom,' and will creep from left to right. You can go back and forth as much as you want.
But the real fun comes from building up a character of sorts with upgrades that help you gather more resources in the Mining stage, and in turn get better upgrades. When you gather a set amount of resources from Mining, you'll get a congratulatory note offering you your choice of upgrades.
Upgrades might grant a bonus for gathering one resource type, or bring in a special piece during mining that allows you to temporarily drag game pieces anywhere you want. But you don't automatically get them; instead, you have to successfully complete a challenge in another part of the game.
Finally, the game brings in a social aspect with a chat room and ability to add other players as friends. Heading into a Tavern section brings up a basic chat room interface where you can interact with other players. You'll also see comments display on the bottom part of the game interface while you're in other sections.
If you're a gamer who likes both puzzle and character-building games, you'll likely find Aurora Feint II: The Beginning well worth its $2 cost.