The term netbook, coined by Intel, conveys little useful information about this category of machines. Sure, they all have wireless networking, but so does every other laptop. Originally what the term helped to identify was a class of small, ultralightweight, cheap-as-dirt mobile PCs. Netbooks are tiny–usually between half and two-thirds the size of a garden-variety laptop–and they typically weigh only about 2 pounds. With their cool, slim designs, they outclass some fancy ultraportables. And best of all, these diminutive laptops start at around $200 (in some cases $100, when purchased as part of a mobile broadband promotional deal).
But as the next generation of mini-notebooks emerges–with some examples illustrating this article–the distinguishing characteristics named above are in flux, spurring debate here at PC World. Is price still a decisive criterion? What about the size of the device, the operating system it runs, or the CPU under its hood? Ultimately all of these things factor into the category; but as new systems with an expanding array of features arrive, our definition of netbook will continue to evolve.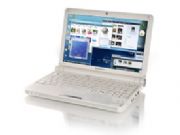 Then there's the blizzard factor: So many netbooks have reached market in the past year–and so many more are on the way–that selecting the right model can be a daunting task. There is no such thing as perfection in a category that is ultimately defined by compromises, but with a little grounding in the basic features of mini-notebooks, you can make an informed buying decision.
For additional information about netbooks, check out these articles:
"Top 5 Netbooks" [chart]
"Top 5 Netbooks in Photos" [slide show]
"Six New and Notable Netbooks" [slide show]
Processor Power
With bargain-basement prices, svelte dimensions, and full-blown operating systems, models in the current crop of netbooks look great on paper. But the Intel Atom processor powering these machines can't do anything much fancier than editing basic documents, sending e-mail, and browsing the Web. The standard configuration for the machines you'll find on store shelves includes a 1.6-GHz CPU with 1GB of RAM using Intel's 945 chip set and running Windows XP–not exactly a performance powerhouse, but it works.
Making the most of your netbook is all about managing expectations. Don't plan on playing modern PC games, editing huge pictures, or creating 1080p videos on these machines–at least not yet. Later this year, nVidia will release its Ion graphics platform, and AMD will launch its Neo processor. These two mobile chips promise to boost netbook performance significantly, and may very well change the way we think about small computers.
Growing Displays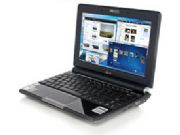 When I first encountered the original Asus Eee PC's 7-inch LCD, I had to increase the magnification in my eyeglasses' prescription–and spin the scroll wheel like a manic gerbil–just to read an everyday Web page.
Fortunately, times have changed. Even the smallest machines these days offer about 8 inches of viewable display area, with at least 800 pixels across. That is adequate for Web browsing, though the 10-inch screen available on the largest netbooks makes a real difference in the experience. I've streamed TV shows over Hulu.com onto an HP Mini 2140, and the images look great. But you also need to account for a couple of visual X-factors when selecting a netbook. The screen coating is a critical consideration. The HP Mini 2140's glossy screen may look snazzy indoors, but in broad daylight–where many people would at least occasionally use it–the glare on it can be blinding.
Another characteristic to weigh is native resolution. The default setting for most netbooks is 1024 by 600 pixels. Though this slightly odd aspect ratio will work with most software, some programs require a different resolution to run properly. For compatibility, Lenovo also incorporates a 1024-¬by-768-pixel-resolution option into its IdeaPad S10. If you intend to run proprietary business apps that demand a specific resolution, make sure that the netbook you buy can support it.
Better Battery Life
Though the Intel Atom CPU is by no means an energy hog, netbooks aren't known for long battery life. That is partly because vendors typically try to keep costs down by providing a modest three-cell battery. If you're lucky, a battery of that size will last 2.5 hours on one charge, judging from PC World Test Center results. So if you want to stay productive on your netbook while traveling, you'll probably need to buy an oversize, extended-life battery to power your machine.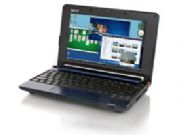 The best-selling Acer Aspire One is a case in point. As configured, this neat little machine sells for roughly $300; but if you want it to run longer (surviving a cross-country flight would be nice), prepare to shell out another $100 for an optional six-cell battery that effectively doubles its duration. The bigger battery adds a little more weight to the system, too: There's roughly a 0.3-pound difference between three- and six-cell netbook batteries, but the longer life between recharges is worth the extra investment.
So far, Asus has earned the laurels for producing netbooks that have the longest battery lives. One reason for its preeminence in this area is the company's inclusion of an eight-cell battery. Another is its practice of offering both a standard and a larger battery with its netbooks, letting users choose the right battery for their needs.
You get one other bonus when you buy a bigger battery, in some models at least: The double-stuffed power source props up the netbook at a slight tilt, making ergonomic typing on the (usually) tiny keyboard a little easier.
Cramped Keyboards
When you read that a netbook's keyboard is 88 or 92 percent of a full-size QWERTY keyboard, you can pretty much ignore the numbers. The layout and arrangement of those keys counts almost as much as the size of the individual keys. To see whether the layout and shape of a given keyboard will work for your fingers, you need to do some hands-on testing at a store. Of course, bigger keys are better for beefy digits–and netbooks that have 10-inch screens tend to offer the larger keyboards.
That's probably why I keep returning to the HP Mini 1000 or the business-minded Mini 2140. The broad, flat keys on these HP netbooks are large enough for anyone to use, because HP opted to reduce the space between the keys rather than to downsize the keys themselves beyond what was necessary.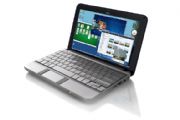 You may be surprised at how many netbooks come with serviceable, comfortable keyboards. Asus's Eee PC 1000H, for one, has a spacious setup that's well suited to touch typists. The machine is cozy and includes a slight valley between adjacent buttons. Even smaller netbooks with 8.9-inch screens can pack a few surprises. The Dell Inspiron Mini 9 and the Acer Aspire One, for example, house great keyboards–far bigger and more usable than their tiny frames would suggest.
Software Choices
Windows XP and some flavors of Linux are the primary operating system options available for most netbooks. Why Linux? Well, for starters, it runs a little leaner than XP, which makes it perfect for a netbook's anemic CPU. Second, it trims a few dollars off the price of these already-inexpensive portables (see "The Linux Option" for more details about your Linux OS choices).
For the most part, Windows XP netbooks carry very little onboard software. A few machines we looked at came preloaded with OpenOffice.org–the free Java-based office suite–but few vendors care to match Lenovo, whose IdeaPad S10 provides a handy recovery application called CyberLink OneKey Recovery 6.0 for creating configuration backups, setting partitions, and establishing restore points. Almost all of the other netbooks we've examined require you to download the software you want to use on your own.
Fortunately, some sites make getting great netbook apps easy. The Google Pack Page (pack.google.com), for instance, offers a few top-notch (and extremely popular) free programs to download, sans spyware–everything from Adobe Reader to Real Networks RealPlayer to Google's Chrome browser (of course).
Here (from PCWorld.com Downloads) is a list of other free, downloadable applications that no netbook should be without: CCleaner, Digsby, Fresh UI, Paint.Net, Secunia PSI, Spybot Search & Destroy, and Spyware Blaster.
Expecting Windows Vista to work with a netbook's puny processor is like expecting a baby with one hand tied behind its back to push a Buick up a hill. Nevertheless, HP originally packaged its 2133 netbook with Vista Business Edition–and no one was terribly surprised when its unimposing Via C7-M processor ran like an out-of-shape sprinter in a swimming pool full of Jell-O. Now Sony thinks it can get its new Atom-processor-based VAIO P mini-notebook (which it insists on calling a "lifestyle notebook" rather than a "netbook") to run Windows Vista Basic. This is probably still a bit of a performance stretch, but advances in future netbook CPUs should eventually make either Vista or Windows 7 an acceptable option.
As we prepare to go to press, rumors are circulating that Google's Android OS will find its way into netbooks this year. We'll just have to wait and see.
Work or Play
The first generation of netbooks targeted nonbusiness consumers–especially students. After all, you can stuff one of these affordable task-specific portables in a bag, and it can take a beating. But machines of this class make sense for corporate users, too. Why lug a huge laptop through the halls of an office complex when all you need is a good keyboard and a wireless connection? Such thinking has led vendors to divide netbooks into business and consumer subcategories.
Corporate netbooks pack more premium components than their consumer counterparts. HP's rugged Mini 2140 comes with 802.11n Wi-Fi instead of the usual 802.11b/g. A built-in accelerometer protects the hard drive if the system is dropped, and a spill-resistant keyboard keeps it dry. Asus's N10Jc was the first mini-notebook to include a discrete graphics processor (nVidia's GeForce 9300M GS) that the user could toggle on or off. Of course, premium gear is expensive, and corporate netbooks command prices above $600.
The Next Generation
Netbooks won't stay as they are for very long. By the end of the year, they will have emerged as a major computer category, with diverse options to augment similar basic features.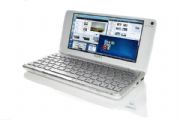 Sony's new $900 VAIO P, for instance, relies on a 1.6-GHz Intel Atom processor to run Vista Basic and gives users an 8-inch screen (a little smaller than a DVD case) to work with. The company's marketing people may cringe when you call it a netbook, but it sure looks like one. Another company pushing the Atom CPU to new heights is MSI, with its X320–a 13-inch portable with the style of a MacBook Air but a price of only $1000.
Other chip makers hope to get in on the ultraportable action, too. nVidia has been making some noise about its Ion platform concept, which will likely consist of a GeForce 9400M GPU married to an Intel Atom CPU on a tiny motherboard. The Ion has performed well on basic tests, but who knows whether it will gain any traction with vendors (or whether Intel will ever support the idea of a different company's chip set working with its Atom CPU)?
Meanwhile, AMD is aiming for yet another tweener category of laptops: ultraslim and affordable. The company's Athlon Neo processor is designed to run reasonably powerful ultraportables that start in the vicinity of $700–just a hair more than the amount some companies are charging for their high-end netbooks–and run as high as $1400. In AMD's case, the baseline configuration has a 1.6-GHz CPU working with ATI Radeon X1250 graphics processor on the motherboard. Though this arrangement is faster than Intel's integrated option, it hasn't set the world on fire yet. Partner a Neo with an ATI Mobility HD3410, however (as the company is proposing), and it can offer 1080p high-definition playback and reasonable game performance. AMD already has a proof-of-concept model shipping this March: the HP Pavilion dv2, a 12.1-inch machine priced at $600 to $800.
Our focus on netbooks here shouldn't lead you to ignore the rest of the notebook market. With the economy in extended decline, prices for full-size laptops are sinking. You'll soon be able to find last year's gear in newer, cheaper notebooks. Toshiba plans to release a low-end all-purpose laptop, the Satellite L305, for around $550. And that machine will have an optical drive. In short, no one portable is perfect for everyone–but you'll soon be able to find the perfect set of options for just about anyone.
Netbooks Without a Net
If names mean anything, it seems reasonable to expect a "netbook" to deliver wireless broadband and constant connectivity. But that's not quite the way things are today. Most netbooks do offer 802.11 g wireless, which is more than adequate for basic needs around an office, airport, or hotel room. And HP's Mini 2140 has 802.11n on board, so you're good for a little more wireless performance there.
This winter we've started seeing netbooks that offer integrated 3G wireless broadband. It sounds great, but there is one big (and tightly knotted) string attached: A two-year contract will run you somewhere in the neighborhood of $2000 over the life of the deal and will wed you to a device that you might desperately want to replace long before the contract expires. Here's some advice: If you crave wireless broadband performance, make sure that your netbook of choice includes a PC Express card slot. That way you can buy a wireless broadband card and plug it into whatever machine you need. PC Express slots are still rare on netbooks, but USB ports aren't. So even if you opt for a system that doesn't accommodate PC Express, you can add a USB 3G adapter, which you can then use with any computer you own.
The Linux Option
Due to their underpowered Atom processors, minimal RAM, and (usually) tiny solid-state hard drives, netbooks generally don't do Vista. And though they can run Windows XP, they don't do it very briskly. Linux, on the other hand, runs extremely fast by netbook standards. And its low overhead helps keep the retail price low on these little machines. But not all Linux distributions are created equal, and not all netbook deployments of Linux are winners.
Each netbook vendor deploys Linux differently on the systems it sells, and most vendors include a customized menu interface to streamline the user experience. At their best, as on the Dell Mini 9 netbook with Ubuntu, these interfaces manage to be unobtrusive and yet provide full access to the Linux operating system underneath. When they're more obtrusive, they can restrict your mobility in the system, limiting productivity.
For your first netbook, unless you're already interested in Linux, you may want to go for a model with Windows XP preinstalled. The cost difference is usually minimal, and you can always install Linux on it later if you want to. If you are a fan of Linux, pick a device you like, regardless of the distribution it offers, and then install your favorite Linux flavor later.
For additional information about netbooks, check out these articles:
"Top 5 Netbooks" [chart]
"Top 5 Netbooks in Photos" [slide show]
"Six New and Notable Netbooks" [slide show]