Ghostery, a free add-on for the Firefox Web browser, searches Web sites you visit for Web bugs capable of quietly tracking your visits and alerts you to their presence.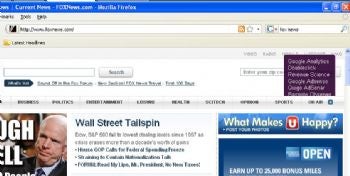 Web bugs, described by Ghostery as "hidden scripts that track your behavior and are used by the sites you visit to understand their own audience," are normally hidden from view within the code on any given page. When the add-on finds one, it displays a small pop-up in the upper right naming each one it found.
An afternoon of casual browsing is all it takes for Ghostery to show its stuff. In my surfing, I saw bugs from Google Analytics, DoubleClick and DiggThis listed. You can also tell Ghostery to display a count of the number of web bugs round next to its icon in the lower-right of the browser window.
If you're at all interested in knowing how you're tracked on the Web, then you'll like this little sleuth. You can configure how long the pop-up displays, and whether it shows up at all. You can also choose to send anonymous statistics about the web bugs you find for use in a GhostRank, which the add-on's creator says will be used to create a census of web bugs across the Internet and won't include any personal information. The feature is off by default, but I'd be interested in seeing those collected statistics, so I enabled it.
While Ghostery does a nice job of telling you what's on a page, it doesn't include an option to block the bugs. For that you might want to try the Adblock Plus Firefox add-on.