Reader Dane wrote in seeking help with this hassle: "After using Safely Remove Hardware for my SD card, I have to reboot my PC before my PC will recognize another SD card. Is there a way for the PC to accept the card without rebooting?"
This brings to mind the old joke where the guy goes to a doctor and says, "It hurts when I do this," and the doctor says, "So stop doing it."
Dane has the best of intentions: Windows' Safely Remove Hardware (SRH) option stops all read/write activity on a removable drive, thus preventing any data damage when the drive is unplugged.
But note the key word here: drive. When you use SRH on a memory card, you're actually "safely removing" the card reader. That's why Windows refuses to recognize subsequent cards until you reboot (at which point the reader gets re-detected by the system).
The upshot: Stop using SRH for memory cards. Instead, change the settings for the reader so that you can safely remove a card without SRH. Here's how:
1. Right-click the icon for the card reader and choose Properties.
2. Click the Hardware tab.
3. Click the drive name (which may be something like Generic SD/MMC USB Device), and then click the Properties button.
4. Click the Policies tab to reveal your two options: Optimize for quick removal and Optimize for performance. Choose the former, then click OK as needed to exit all the dialogs.
If the two options are grayed out, switch back to the General tab and click the Change settings button to gain administrative rights.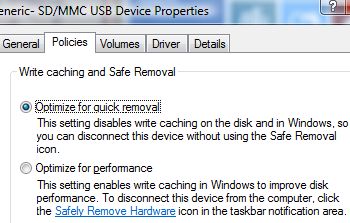 If you don't want to mess with all these settings, just make sure you've closed any program(s) that might be accessing your card, make sure the reader's activity light isn't flashing, and then pull the card. That's how I roll, and in years of card-swapping I've never encountered a problem. (Though now I've probably jinxed myself.)