Samantha Christian trains hard, 8 to 10 hours some days, honing her craft. She plays Bejeweled 2. As a result, she's bagged almost $400,000 in the past three years. I've heard of hyperactive twitch freaks competing for big money prizes on the pro gaming circuit for big money–but turning casual gaming into cash?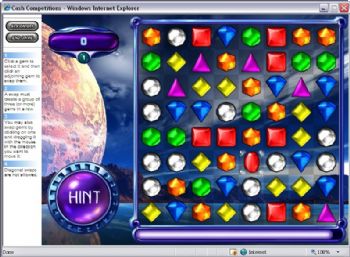 Starting March 2nd, WorldWinner.com kicks off its 2009 WorldWide Web Games (W3Games) championship series, and Christian, aka GamerGoddess, is one of the elite gamers hoping to walk away with a big piece of the $500,000 prize pool. Broken out into several tournament brackets, players square off in a number of games–Solitaire Rush, Wheel of Fortune, Bejeweled 2, and Big Money–with the 32 top scorers earning top coin. Sounds simple enough, right?
Friends Training Friends
An admitted "gamer since the womb" and currently studying for her masters in clinical psychology, Christian makes time for polishing tactics by teaching–and learning from–the competition. "My friends in the community are helping me train in games that I don't know as well as they do," says Christian. She adds, "Even though we're competition, it doesn't mean we can't be friends."
One of those friends, Camarofire (aka Danielle Ulrich from Rockland, California), is particularly good at Big Money. "I see other people at my level are improving all the time," Ulrich says, "so I have to keep training." When not playing, she's talking with other players. Her tactic: "I find other good players in the forums. We challenge other players that we're friends with, upload videos of our games, and critique–and give tips–to each other."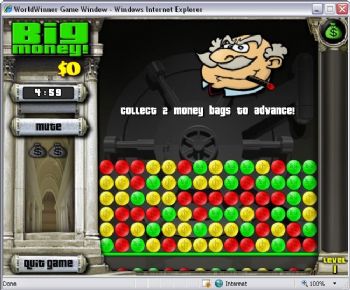 She's been playing for profit these past seven years, but only started taking it seriously in July. Since then, she's snagged about $20,000. "But I don't play while I'm at work," she jokes, "even though I make almost as much online as I do at my real job." Ulrich currently works at an insurance company with plans to go back to school soon for pre-med. There are worse ways to earn money for med school; trust me.
"On average, I make between $100 and $150 a day if I game. On my best night–playing for about 4 hours–I won $3500," she says.
"A bunch of my coworkers are jealous. Some of them are signing up to give it a try. With my winnings, I've bought a car [and a] trailer, and I'm looking to put a down payment on a house right now."
Big Money, Big Prizes
But there are costs. It's not like someone is going to back up the money truck to your front door. You (and other players) put cash on the line to play. The top scorers get the pool of cash; everyone else goes home empty-handed.
That's how it started for John Pepper (aka Meathook). A college student and Scrabble fanatic, he learned about playing word games for money and got good at Wheel of Fortune. It just took some time. "My first $20 didn't go so well," Pepper admits. He just jumped in, and, he says, "I started losing a lot of money. By the time I was down $75, I stopped paying and started practicing on the free games."
Free versions of the competition games are on the WorldWinner site (and on other sites, for that matter), and the one thing that everyone agrees on is to practice on those freebies before putting any money on the line. Look at the high scorers and know what you're getting into. Pepper's strategy: Stick to the low-stakes competitions. One approach is the Daily Delight–put a couple bucks down, and the high scorer in a 24-hour period walks away with $50.
Even though the high-stakes games offer a lot of money for the winner, Pepper thinks that those games aren't worthwhile because of the number of strong competitors and the payoff ratio. In those competitions, you can pay $35 to enter a high-stakes game and maybe win in the neighborhood of $200 to $300. "The low-stakes games attract more people [as many as 50 to 100 competitors], but [those players] aren't as skilled. They are willing to walk away from a losing round since it only costs 'em one or two dollars," he says. Sounds kinda like pool hustling to me, but I won't argue with success. He's not doing this full-time. ("Sometimes I'll get carried away, but for the most part I play 1.5 hours a day.") Nevertheless, his approach is paying off. He's made about $15,000–roughly $500 to $600 a month–to help with college.
A No-Cash Alternative–Puzzle Quest: Galactrix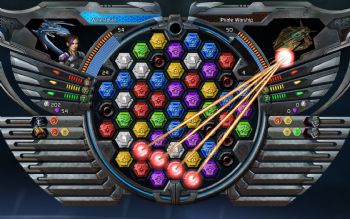 So is it time for me to hang up the journalist cap and dig into the competition? Well, to be honest, I still need to train a little before I'm ready to butt heads with any of these wringers. Besides, PuzzleQuest: Galactrix just launched this week (for Windows and the Nintendo DS)–and while you can't win cash playing, you're still getting your money's worth.
The best way to describe Galactrix: Take Bejeweled and turn it into an addictive role-playing game set in space. You go on quests, combat space pirates, haul cargo, and upgrade your ship. With all the mini-games and the story to follow…Oh, yeah, and it's a puzzle game. If you've played the original Puzzle Quest, you know the basic idea: As you connect at least three gems, you gain energy and damage your opponent. I can't tell you how many nights I lost sleep and how many bus stops I missed playing the original. I almost dread seeing the sequel come out.
Until next week…
Need even more nerdity? Follow Casual Friday columnist and PC World Senior Writer Darren Gladstone on gizmogladstone on Twitter for more time-wasting tips.