As you browse the Web, you most likely want to jot down notes, thoughts, and ideas–and you most likely forget them, never to find them again. A great little Firefox add-on called List.it solves the problem for you neatly. When you want to write a note, click the little note icon at the bottom right-hand corner of Firefox, type it in, then save it. When you want to see all your notes, press a hotkey, and a sidebar panel opens with a list of all of your notes. You can then browse through them, search through them, edit them, and delete them.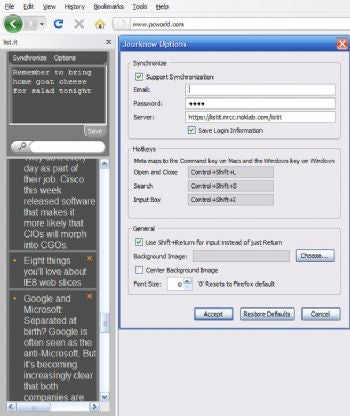 Also useful is that you can install List.it on multiple PCs, and synchronize notes among them all. That way, whenever you're at a computer with Firefox, you'll have all the notes you've jotted on any PC.
Note: When you purchase something after clicking links in our articles, we may earn a small commission. Read our affiliate link policy for more details.