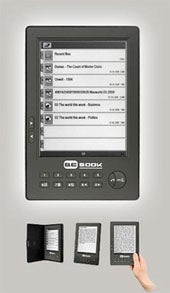 Visitors to this year's Cebit trade show have the first chance to see a new version of the BeBook electronic book reader from Dutch company Endless Ideas.
The new model has been redesigned to include 3G cellular and/or a WiFi data link, touchscreen navigation and RSS support, said the company in a posting on its Web site.
The device will also get ePub DRM (digital rights management) support over the next few months and is due to be launched in the middle of this year. No other details were immediately available.
The electronic book market recently saw the introduction of the second-generation version of Amazon.com's Kindle e-book reader. That device also includes cellular support but is only available in the U.S., where Amazon has a tie-up with a network operator.
Sony has also seen some success with its "Reader" e-book tablet and has been adding support for a wider variety of data formats to better compete with the Kindle. It supports the BBeB and ePub formats with DRM and unprotected text files in the BBeB, ePub, TXT, RTF, PDF and Word formats. Additionally it can show several types of image files and play MP3 and AAC audio files.
The first-edition BeBook, which was launched in 2008, has won praise for its ease of use and inclusion of around 20,000 classic books with each reader.