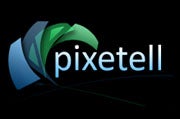 A Portland, Oregon, startup called Ontier is set on Monday to unveil Pixetell, communication software that combines text, video, images and audio in a single message.
Regular e-mail, especially for complicated discussions, can be tedious, with many messages going back and forth before a problem gets solved, said CEO Sebastian Rapport, who will demonstrate Pixetell at the DEMO conference in Palm Desert, California.
Web conferences have their own limitations as well, since they can be hard to schedule, especially for distributed teams, he said. "At awkward hours, you can't get it done."
Pixetell, meanwhile, "sits somewhere between e-mail and Web conferencing," he said.
Rapport demonstrated the software in a recent interview, showing a Pixetell-based conversation between a person designing a new home and their architect.
Inside the Pixetell message window was a 3-D blueprint of the house.
Playing the role of the homeowner, Rapport moved a pointing tool over the image, showing the architect where he wanted a wall moved, all the while recording a voiceover explanation. He then recorded a quick introduction to the message and hit send.
In real life, such a message would be a "big time saver" since it can be hard to convey visual ideas by text or on the phone, Rapport said.
There are a range of other business scenarios where Pixetell's approach could be useful, such as a discussion over a frequently used spreadsheet, he said.
And it may be an especially great way for Web site designers to communicate with their customers, compared to traditional methods, Rapport added: "'Move the logo over here, move it over there.' Trying to describe that in e-mail sucks."
After Pixetell creators hit send, the message is uploaded to Ontier's secure servers; recipients access it through a URL (uniform resource locator), which can be sent via e-mail or even posted on a blog, he said.
While recipients can view and respond to the Pixetell, a new license is required if they want to create their own messages. Pixetell's rich messaging capabilities require a small client-side installation, but recipients can avoid doing that if they only reply with simple text, he said.
Pricing hasn't been determined yet, but will be sold by subscription. Ontier is still deciding on storage and bandwidth limits as well.
For now, Ontier is focusing on the business market, but plans to make a consumer play down the road, according to Rapport.
"I don't see us as replacing e-mail. But what this does is add to the arsenal," he said.