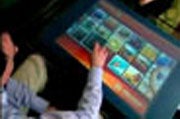 Microsoft will begin selling its Surface touch-sensitive computer in some European and Middle Eastern countries, the company said Monday at the Cebit trade show.
Surface will now be available in Austria, Belgium, France, Germany, Ireland, Italy, Netherlands, Qatar, Spain, Sweden, the United Arab Emirates and the U.K.
Surface, which debuted in the U.S. in 2007, has been bought by companies such as AT&T, which configured Surface to display information about a mobile device when a customer placed it on Surface's screen. Surface has also been used in health-care and financial applications as well as in hotels.
Surface doesn't have a mouse or a keyboard, and people manipulate applications and items such as photos by tapping and dragging. Photos can be expanded using one's fingertips. Surface uses cameras to identity objects and sense hand gestures.
Microsoft said it now counts about 120 partners in 11 countries that are developing applications for Surface's interface.
Among those partners are Accenture and IT consultancy Avanade, which both created a wealth-management application that helps people with retail banking, estate planning and investments.
Microsoft said Surface with five SDK (software development kit) licenses is priced at €13,000 (US$16,357). Surface alone costs €11,000 for commercial deployments.