When I saw the presentation of CC:Betty at DEMO 09 this morning, I thought to myself, "Elegant solution. What was the problem again?" CC:Betty lets you take any email message and make it into an online discussion thread, complete with storage for videos, photos and files.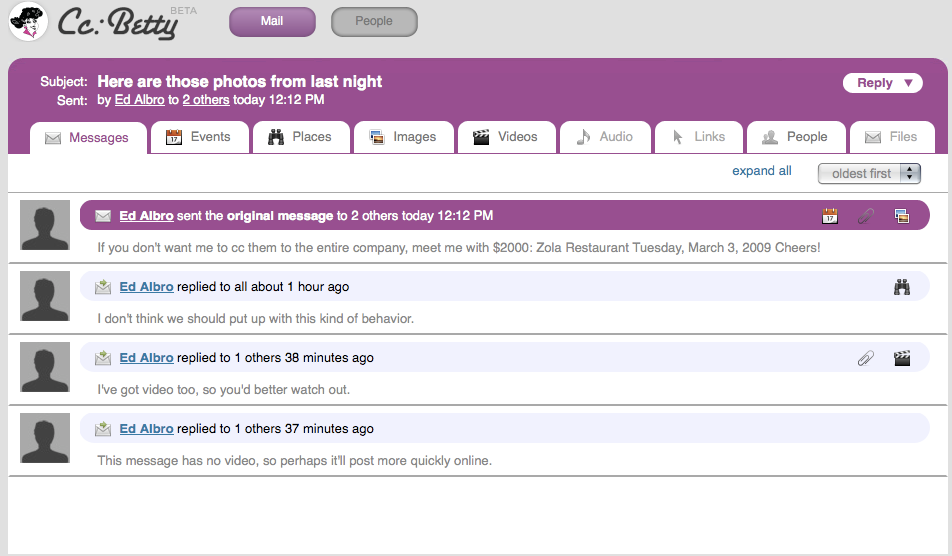 And it seems to do it easily and well: You simply compose your email as usual, add attachments, then add betty@ccbetty.com to the CC field. You and all the recipients to your email get a message from the Web service letting them know that the email and its attachments now have a place on the CC:Betty site.
Your friends can either reply to your email in the usual way, or go to the Web site and make a comment or upload new content. From my quick testing, it all seems to work pretty smoothly and clearly.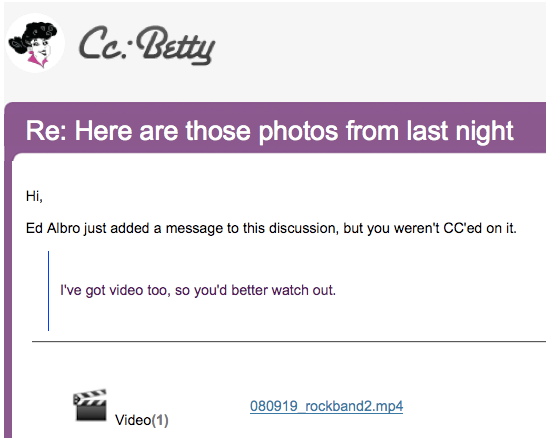 (One somewhat creepy sidenote, though. As I was testing CC:Betty among a few email accounts, I got one message from Betty telling me "Ed Albro just added a message to this discussion, but you weren't CC'ed on it." Then she proceeded to repeat the message I wasn't cc'ed on. Um, isn't it possible I wasn't cc'ed for a reason? And isn't it possible that the person who decided not to cc me might be a little ticked off that I got the message anyway? Loose lips sink ships, Betty!)
What's not so clear to me is why I'd want to use CC:Betty. I guess by parsing images and files out of the emails in which you shared them, you make it slightly easier for people to lay their digital hands on them. But is that marginal efficiency really going to convince people to leave their inboxes? I have my doubts.