Talk of a new name for Microsoft's Live search engine is gaining fresh momentum, thanks to two messages posted on Twitter and observed by an unofficial Microsoft Live blog. The messages suggest a rebranded Live is already in prebeta testing, and that some form of Live search news will be formally revealed this week.
Microsoft Live Rebrand: The New Buzz
The new buzz, initially reported by LiveSide.net, revolves around a Twitter update attributed to an unnamed Microsoft executive. "Played today with Live search upcoming (to be rebranded) launch pre-beta," the tweet is quoted as saying. "I like the new features and UX so far." (UX, by the way, is an abbreviation for user experience design.) The message, LiveSide says, has since been deleted, though the site has published what it claims to be a screenshot.
Added onto that is a Twitter update by a user identified as Microsoft manager Karen Young, who heads up the company's Most Valuable Professionals (MVP) program. "Live search update will be discussed in Steve Ballmers speech on Wednesday @ #mvp09," the tweet says, referring to this week's private Microsoft MVP Summit being held in the Seattle area.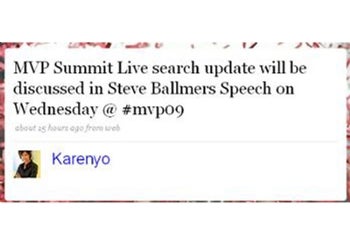 Tracking Change
The idea of a Live rebrand has been floating around for months. The name "Kumo" surfaced as a possible new identity last November, when tech sites noticed Microsoft had snagged several domains centering on the word. In the meantime, new features have slowly popped up on the struggling search engine: categorized result listings, Facebook integration, and more than a few forms of what can best be described as bribery.
Here's the thing, though: Not a single one of those efforts has made a measurable impact — at least, not by any measurements that weren't commissioned by Microsoft itself. I looked at the backward progress of the "Cashback" promotion back in December. Since then, despite Microsoft's constant push to bring searchers to Live, the site's market share has continued to fall. And, if you ask me, a new name and new look isn't going to do much to save it.
Crunching the Numbers
Just look at the data. For consistency's sake, we'll compare Live's market share from April 2008 — the month before the "Cashback" program launched — with the most recent numbers available. We'll use data from two different companies to give us varied perspectives on both global and domestic usage.
When it comes to the U.S., Live was grabbing 9.4 percent of all searches last April, according to ComScore. Since then, with the "Cashback" program and all the other various changes, Live has dropped about one point to 8.5 percent of the U.S. search market (as of January 2009, the most recent month ComScore has calculated).
Internationally, Live was pulling in 2.5 percent of searches back in April of 2008, measurements by Net Applications indicate. It's since dipped down to 1.73 percent of the global market as of February 2009.
What's in a Name?
Consider, too, Microsoft's name-changing attempts with the Windows Mobile platform. After meandering from Pocket PC to Smartphone, then onto a few varieties of Windows Mobile-based names, then just recently to Windows Phone, the one thing consistent with Microsoft's mobile offering has been its lack of any continuing success. The latest numbers show WinMo holding just under 7 percent of the mobile market, compared to the iPhone's roughly 67 percent. Putting it all together, the odds of a rebrand rejuvenation just don't seem strong.
So what's in a name? Often, it would seem, not so much. Just ask that guy named Jeeves. I hear he has some experience in this department.