File this product under "We'll believe it when we see it." A Menlo Park company called Always Innovating says its Touch Book will be a netbook that turns into a tablet PC when you pull the screen away from the keyboard. The company also told the audience here at DEMO 09 that the Touch Book's battery will last 12-15 hours on a charge.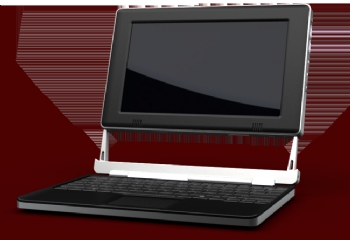 The Touch Book uses an ARM processor, which means it won't require a fan and won't need much power. But company officials also say it'll be powerful enough to play video, and, even though it comes running Linux, that it can run other OSes as well. It may be significant, though, that the other OS they mentioned as an example was Android, not Vista. ARM processors are far from the most powerful chips on the planet.
The Touch Book certainly looked slick. You could pull the screen off of arms that connect it to the keyboard. At that point, the presenters said, the Touch Book would operate in any orientation depending on how you hold it, thanks to the same kind of accelerometers found in iPhones. Again, it may have been significant, though, that the Touch Book they demonstrated didn't show anything on its screen — it seemed to perhaps be only a hardware prototype.
And if all those claims don't strain credulity, this one might: The Touch Book is supposed to sell for no more than your average netbook, $299 as a tablet PC only without a keyboard and $399 with a keyboard. The company's Web site says the product is supposed to ship "in May or June 2009." For now, I'm skeptical, but I hope when it does ship that I'm pleasantly surprised.