As had been rumored, Apple this morning upgraded its line of iMacs, MacMinis, and Mac Pros, with improved processor speeds and upgraded storage space. All of the new computers are now available in the Apple store.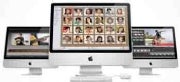 The new iMacs, available in both 20-inch and 24-inch models, feature double the amount of RAM found in previous models : 2GB for the 20-inch version and 4GB of RAM for the 24-inch. Hard drive space also gets doubled, to 320GB for the 20-inch model, and 640GB and 1TB for the 24-inch model. The prices range from $1,199 for the base 20-inch 2.66-GHz model up to $2,199 for the 24-inch 3.06-GHz model with 1TB or storage space.
Mac Minis received a speed bump as well with 2.0-GHz processors, more disk space, and NVIDIA GeForce 9400 graphics cards. Two new models are available: For $599 you can get a 2.0-GHz Mac Mini with 1GB of RAM and a 120GB hard drive; a version with the same processor speed, 2GB of RAM, and a 320GB hard drive goes for $799.
Two MacPro models are available as well. A $2,499 model features a Quad-Core 2.66-GHz Intel Xenon Nehalem processor, 3GB of RAM, and a 640 GB hard drive, while a $3,299 model brings you two 2.66-GHz Intel Xenon Nehalem processors (8-Core), 6GB of RAM, and a 640 GB hard drive.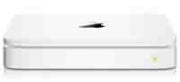 Also, both of the company's new wireless devices, Time Capsule and AirPort Extreme now offer simultaneous dual-band Wi-Fi on both the 2.4-GHz and 5-GHz bands, allowing all the devices on the network to use the most efficient band automatically. This will allow them to serve wireless Internet connections to both Macs and PCs, alongside Wi-Fi devices such as iPhone, iPod touch, and Apple TV. Time Capsule costs $299 for the 500GB model and $499 for the 1TB model. Airport Extreme comes at $179.