Leaked images and an internal memo regarding Microsoft's overhaul of Live search, codenamed Kumo, started showing up on the Web late yesterday. In the memo, Microsoft search executive Satya Nadella asks Microsoft employees for feedback on Kumo before a planned release to the public later this year, according to reports from News.com and AllThingsD. The leaked shots and memo come on the heels of rumors that Steven Ballmer may have more to say about the new search brand tomorrow at MVP09.
According to the screenshots, Kumo is a three-column web page with search results in the middle and Google-style text ads related to your search terms in the right column. The left column contains a selection of related searches and a single-session search history to make it easier to backtrack to previous queries. However, the most interesting tool on the left is the search categories. Instead of a set of standard categories like "images," "video" etc, Kumo uses categories directly related to your search.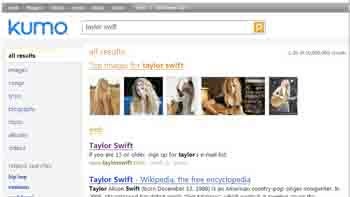 For example, a search for the term "Bose Lifestyle 48" results in categories for images, review, manual, prices, and repair. The search example for Taylor Swift, on the other hand, contains search categories to help you find song lyrics, tickets, albums, biography and so on. Semantic categories are a great idea, and most likely a result of Microsoft's purchase last year of the semantic search engine Powerset. However, it's not new since this same feature can be found on the natural language search site Hakia.
There has also been a lot of speculation about the brand name for Microsoft's new search site. Whether, Microsoft will keep the name Kumo is still unknown though many Microsoft watchers do believe Kumo will end up as the official name. There has also been some speculation that Kumo will expand to more than just search. I think that's exactly right and am sticking to a theory I forwarded last year. Kumo has two meanings in Japanese: cloud and spider. The cloud, as in cloud computing, is still the big buzzword for the future of online computing and I think the Kumo brand may, in time, embrace more of Microsoft's cloud strategy than just search.
Then again, Kumo may not end up being the new brand name at all. Other names that have been tossed around include Hook, Bing, and even Kiev. Which, of course, proves one unchangeable and definitive truth: Microsoft is absolutely hopeless when it comes to choosing brand names.