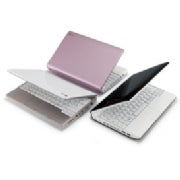 LG Electronics has had a lot of success — and developed a strong brand — in the North American mobile phone and high-definition TV markets. And now the Korean consumer electronics giant is gearing up to enter the booming netbook market too.
According to a Forbes report, LG will launch the X110, a 10-inch netbook, in the United States by July. The low-cost mini-notebook, which features a 1.6GHz Atom processor and 3G wireless, was introduced by LG last fall. The X110 thus far has been available in many worldwide markets, but not in the United States.
As netbooks go, the X110's specs are fairly conventional: an 80GB or 120GB hard drive (no solid state drive option) and Windows XP Home. At the Mobile World Congress show in February, LG introduced a newer model, the X120, which will ship in Europe this month.
LG's move into netbooks makes a lot of sense. For starters, netbooks are one of the few bright spots in an otherwise dismal PC market. Worldwide netbook shipments will nearly double in 2009 versus 2008, according to technology research firm Gartner, while overall PC shipments will drop nearly 12 percent.
LG, with its strong relationships with U.S. cellular providers, is ideally positioned to be a major player in the netbook market. AT&T is already offering subsidized netbooks from Acer and Dell, and LG would be a nice addition there.
For consumers, the question is whether AT&T's $60-per-month data plan — or competing plans from other carriers — will be worth the cost savings that come with a subsidized netbook. If the hardware costs $99, the answer is probably yes. Any higher and the value proposition becomes less clear.
Then again, the business model has worked beautifully for smart phones, so why not for netbooks? As Fram would say: You can pay me now, or pay me later.