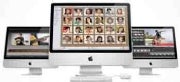 As you may have already seen, Apple refreshed its entire desktop lineup earlier today. And while there's nothing really groundbreaking in today's update–it was mostly just a speed bump–there are a few things to be aware of before you go out and plunk down money on a new Mac.
iMacs go integrated: The two lower-end iMacs use an integrated graphics chipset, while all of the previous-generation iMacs used a dedicated graphics card. That said, the integrated graphics the lower-end iMacs use—Nvidia's GeForece 9400—is no slouch (most current games are playable on it), but Mac gamers and those who are looking at an iMac to serve as a graphics workstation will be disappointed. The two higher-end iMac configurations still use dedicated graphics cards.
Seeing double: The newest Mac Mini now includes two video ports: one Mini-DVI and one Mini-DisplayPort, which means you can now attach two displays to your Mac Mini. The downside, of course, is that Mini-DVI is virtually nonexistent on displays, and Apple is the only company to use Mini-DisplayPort, so you may need some of Apple's world-famous video adapters. Apple includes a Mini-DVI-to-DVI adapter in the box, if you own a VGA monitor, you will need to buy a Mini-DVI-to-VGA adapter, which runs around $20.
More power for less dough: The Mac Pro now starts at $2499. While this still sounds like a lot, it's actually $300 less than the old base configuration.
FireWire 400 is dead. Long live FireWire 400! None of Apple's new desktops sport a FireWire 400 port. In fact, the only Mac with FireWire 400 is the white plastic base-model MacBook. While you would probably be able to survive without FireWire 400, there are instances where you may need FireWire 400. For example, a good number of external hard drives come with FireWire connections. And while most current digital camcorders come with USB connections, many older ones are FireWire 400-only. But there is a consolation prize: Apple's new desktops all feature FireWire 800, so you can still use your FireWire 400 devices with the purchase of a FireWire 400-to-800 adapter.
Your very own video wall: Mac Pros can support up to eight 30-inch displays. Yikes. Granted, you would need four Nvidia GeForce GT 120 graphics boards (available as an option through Apple), and you would need to fork over thousands of dollars for eight displays, but can you imagine how cool that would be?
No Core i7 for you! Although the new Mac Pros ship with Xeon processors using Intel's Nehalem platform—before Intel even officially launched them, no less—none of Apple's new desktops utilize the Core i7 processor, which has been making its way into PC desktops.
What do you think of Apple's newest desktops? (Many Mac fans fumed about today's announcement.) Let us know and post a comment below.