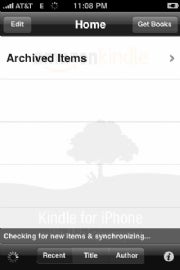 Amazon has released Kindle for iPhone, an iPhone app that lets you read Kindle e-books on your iPhone or iPod Touch. With Kindle for iPhone's release, Amazon extends Kindle's reach off its own e-book reader for the first time.
Kindle for iPhone lets you buy Kindle e-books on your computer, then transfer them to your iPhone or iPod touch over WiFi. If you're away from your computer, you can purchase books from the Safari browser on your iPhone. And if you have already purchased Kindle e-books, you can download them to your iPhone for free. Lastly, Kindle for iPhone supports Whispersync, which lets you go from Kindle to iPhone and back, without losing your place in the book.
Kindle for iPhone requires an iPhone or iPod Touch with the iPhone/iPod Touch 2.1 software update installed, and it's a free download (link redirects to the Kindle for iPhone page in the App Store).
Some e-book readers do exist on the iPhone, such as Classics ($2.99 as of 3/3/09) and Stanza (free as of 3/3/09). While Classics brings you a number of literary masterpieces, and Stanza gives you access to 50,000 e-books, neither e-book app has quite the brand recognition of Amazon and Kindle.
Amazon's expansion of Kindle to the iPhone makes me wonder if we'll soon see Kindle as not just a device, but as a full-fledged publishing platform. It should be interesting to see where Kindle ends up next.