Amazon launched last night an application for iPhone users that allows them to read more than 240,000 Kindle-formatted books available from the company's library. Coming as a free download from Apple's App Store, 'Kindle for iPhone' lets users of Amazon's popular e-book reader put the content they purchased for the Kindle on their iPhones.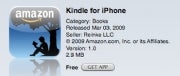 The move has been expected for a few months. Amazon is trying to extend the reach of its e-book across other mobile devices rather than confine it to its own hardware. Also, Kindle owners now have an additional way to read their content while on the go. But as good as it sounds, Kindle for iPhone has a few shortcomings as well.
Arriving just a few weeks after the launch of Amazon's second iteration of its e-book reader, Kindle 2, the even newer Kindle for iPhone is more of an additional tool rather than a solution itself. Users can access all the e-books they bought so far from their Amazon account and then download them onto the iPhone. However, any newspaper and magazine subscriptions cannot be transferred. Such a restriction is a common disadvantage for those early adopters.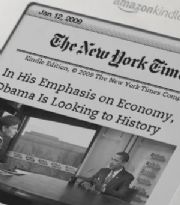 On the upside, the Kindle app for iPhone will display books with color (if they were designed that way), unlike the Kindle 2, which can display only 16 shades of gray on its 6-inch screen. Also, Amazon's iPhone app will sync with its servers where you left off reading a book so you won't lose track when you return to the Kindle. However, Kindle for iPhone users won't be able to buy books directly from the app and must instead use Amazon's Website or the Kindle device itself for that.
Of course, Amazon's Kindle app for the iPhone is not the first or the only e-book reader for the iPhone. But this application brings together something that other similar apps on the iPhone might lack — a massive 240,000 specially formatted book library and a dedicated place (Amazon's Website) to easily buy e-books at a lower price than the physical counterpart. Last month the mobile version of Google Book Search for iPhone and Android made its debut, giving users access to more 1.5 million public domain books.