Ready to boldly go where no fragrance has gone before? That's the concept behind Genki Wear's new line of Star Trek-themed colognes and perfumes. Take a moment if you need one, because this is no joke. While the company's batch of scents looks like an attempt to capitalize on the growing frenzy surrounding the next film in the pipe, J.J. Abrams' Star Trek, the fragrances actually pay homage to the roots of the Trekieverse.
Tiberius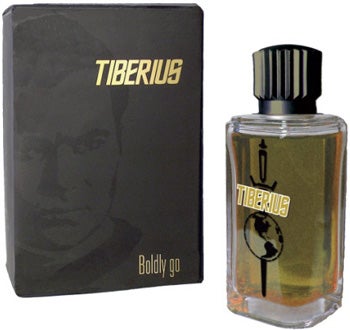 According to Trekmovie.com, the first scent, Tiberius, bottles a "sweet citron zest, black pepper, and cedar" as its top notes–the scent you first notice when applying the perfume. After a period of time has elapsed, usually a half-hour or so, the top notes make way for the fragrance's base notes. For Tiberius, this includes the aroma of warm vanilla, white musk, and sandalwood. We suppose it's tough to bottle a zest for stomping alien ass into a fragrance, so this will have to do.
Red Shirt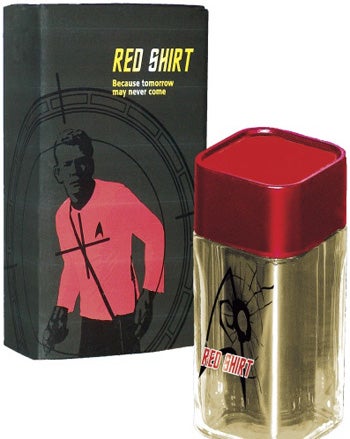 The second scent attempts to translate the joy of getting shot, stabbed, blown to bits, and dematerialized into a bottled form. This cologne, "Red Shirt," contains top notes of green mandarin, bergamot, and lavender. Its base notes include leather and gray musk–a strong aroma that's sure to leave a lasting impression during you brief career as a pseudo-Starfleet member.
Pon Farr
Genki Wear's third scent is a little more esoteric, and details are scant as to its construction and underlying theme. We do know that this third perfume is called "Pon Farr," a reference to Vulcan mating rituals. As to what Earthly constructs might set the nostrils aflame with the aroma of an amorous Spock, well, we'll leave that to your imagination.
You can pick up the 3.4-ounce bottles of Tiberius and Red Shirt from department store and online retailers. They'll likely retail for anywhere from $30 to $40 depending on the store.