You'd be hard-pressed to find a more opinionated, verbose, and downright catty group than the citizen reviewers on Yelp.com–which is one reason this user-driven business directory is so popular. Yelp, Inc. now offers an iPhone app that lets you access all this snarkiness on the road while also finding local eateries, shops, and gas stations that are open when you need them.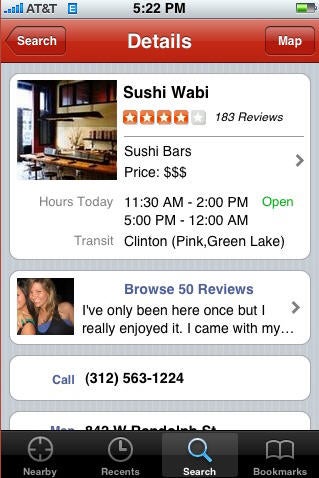 First, Yelp devotees should note that the Yelp iPhone app doesn't let you write reviews. Instead, it mainly serves as a business locator. And to that end, the program largely succeeds. The Home menu offers quick links to the types of businesses you're most likely to need while on the move, including food, drinks, gas stations, banks, and drugstores. It also includes links to the 10 most recently viewed businesses for easy access–a nice touch.
To look for businesses in other categories, you'll have to switch to the Search pane. From there you can enter any term into the Find field. You can search near your current location (the app uses the device's built-in location finder) or enter in a different city or address. You can map search results as you can on the Web site. However, the map you get is static; you can't zoom or pan. Instead, you use left and right arrows to jump to different numbered results (or you can tap on a number on the map). You also can't get directions from your current location. This limits the map's usefulness and means you may spend a fair amount of time manually entering the info into the iPhone's more robust Maps program.
If you get a lot of results, you can filter your searches by distance, price, specific neighborhoods, or by whether the business is currently open. This last option is particularly helpful if you're stuck looking for a drug store or late-night snack after hours.
When you click on an entry for a business, you'll access many of the same features you'd find on the Yelp site. You can browse user reviews, get essential contact info–including the phone number, hours of operation (with a warning if it's currently closed)–and map the business' location (though again, the map is static). However, there are some notable omissions. You won't find a link to the company's URL if you want more information, or an option to e-mail the Yelp page to someone else. Some may also complain that the Yelp app displays a maximum of 50 reviews for a business (although, frankly, I'm relieved by that limit). You can also save business pages to the Bookmarks pane for easy access later, though these bookmarks won't sync up with bookmarks you've created in the online version of Yelp.
In all, the Yelp iPhone application makes for a useful and easy way to navigate business locator. Though some Yelp fans may be disappointed by the program's limitations–most notably, the inability to write reviews–the program's search features and the power to see what businesses are open at this moment make it a compelling download–as does the fact that it's totally free.
Note: This link takes you to the vendor's site. From there, you can follow the link to the iTunes App Store, where you can download the latest version of the software.
–Kelly Turner