Dream of being a DJ? Ever want to stream your own playlists across your LAN or the Internet? If you have an understanding of Internet communications, take a look at RadioBoss ($180, free demo), a more-than-capable librarian/player with broadcast abilities.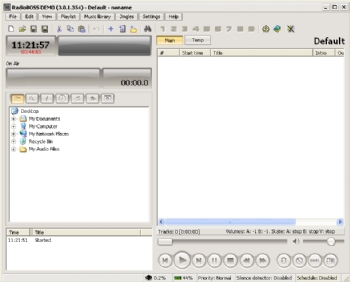 RadioBoss is easy to use, and in addition to the neat trick of broadcasting across networks, it has a number of features that make it a nice little librarian and player. You can edit tags, create playlists from templates, and more. There's support for a number of audio formats, including MP3, OGG, WMA, Apple AAC, and any flavor of wave file up to the 32-bit 96kHz I tested it with. (It may let you add FLAC and Apple lossless files to your playlist, but don't be fooled: These file types aren't supported.) You can also tap your audio input and broadcast that.
While there are small annoyances–such as being able to add unsupported file types to the playlist–my only serious problem with RadioBoss is the help file. Nowhere within it could I find any help on broadcasting–and it's not a dead simple process. If you're seriously looking at the program, you probably know, but it's a rather large omission nonetheless.
Consumer caveat: streaming your tunes can use a lot of monthly bandwidth. If it's just for you and a few friends, or over the local network, fine. However, feeding lots of listeners on the Internet will probably blip your Internet provider's radar in short order.