Easy Screen Capture and Annotation ($30, free demo) is a lightweight screen capturing and markup utility that lets you easily screen capture a selected region, a window, a scrolling window, or almost any other screen object with ease. That captured image can then be annotated with text boxes and arrows and saved in a variety of image file formats.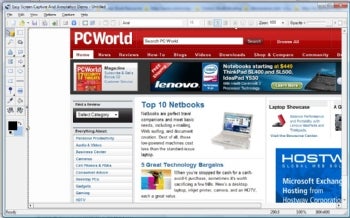 Easy Screen Capture and Annotation has one big flaw, though. Not only can it only handle one screenshot at a time, but when you go to File -> New and choose the size of a new screenshot, then click OK, it doesn't prompt you to save the existing screenshot – it's simply wiped. Undo is no help here. The intuitive thing would be to either handle multiple screenshot windows within the same app, or make it more difficult to write over a heavily-annotated screenshot.
Competing utility ScreenShot Captor handles multiple screenshots at once with ease, and it's donationware–rather than Easy Screen Capture and Annotation's $30. Those two differences (and the fact that Screenshot Captor also annotates just fine) make it clear that Screenshot Captor is the better choice here.