There's been a bit of a rebirth in the all-in-one desktop category lately and from the looks of it, Dell is onto something with its Studio One 19. This new machine — starting at $699 — melds together a wish-list of what I'd hoped I'd see in my Kitchen of TomorrowTM. It's just a shame that Japan retailers get to play with the Studio One 19 this week while it isn't slated to appear stateside until "sometime this spring." That's not stopping me from sharing my two cents on this computing conversation piece right now since I just came out of a product demo: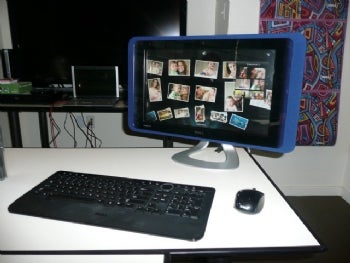 Dell's Studio One 19 attempts to take what HP's big, black obelisk of sleek touchiness (the HP TouchSmart IQ506) got right — and wrong — and hit a slightly different demographic: Non-nerds. At least that's the pitch Dell spokespeople give.
First thing you can't help but notice is this system's compact form: It measures 21.9 by 15.5 by 3.2 inches. Inside, the 18.5-inch display floats over an interchangeable back panel supported on a stand (I'll get back to that in a second). You've got a fairly sharp 1366 by 768-pixel (16:9 aspect ratio) image on said screen–enough that you'll be able to see colors pop on screen. Of course, the glossy coating will also bounce back some light in your face — it did when I tried taking a couple shots during the demo.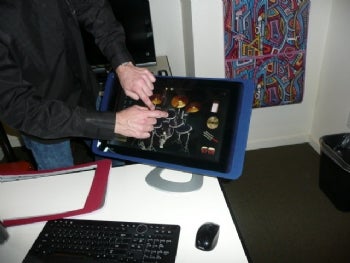 The unit Dell showed me has a sweet multi-touch panel, but you'll pay an extra 100 bucks on top of the starting price to get that functionality (making it $799 for the machine that you really want). The pre-installed software suite looks armed to take full advantage of the touchscreen: Media player apps, Internet Explorer integration, photo re-sizing, memo taking. Heck, I opened up Microsoft Paint and started drawing directly on-screen. With that capability, who needs a drawing tablet? Other bits of Dell's software border on niche (a basic drawing/art program for the kiddies) to stuff with potential (an onscreen drumset lets you bang out the beats). Me? I'd rather seen Dell create a touchscreen turntable so that I can easily "scratch" my MP3s. Dell, you dig where I'm coming from on that one?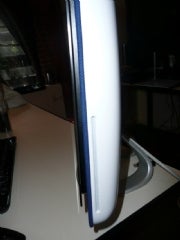 The rest of the machine is a series of interesting choices. Inside, resides a 7200 rpm SATA drive — 160GB to 750GB — and up to 4GB of RAM (both user upgradable, say spokespeople). It can also house anywhere from between a humble Intel Celeron 450 processor (2.2GHz) up to a Core 2 Quad Q8200 (2.33GHz). The default configuration comes with a single slot-loading 16X DVD burner. Want to get a little more multimedia oompf? Upgrade to a Blu-ray — it'll cost about $200 more according to initial estimates. The default config also has nVidia's MCP7a chipset, so you'll get decent graphics options–the GeForce 9200 or 9400.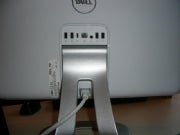 A couple other quick thoughts: Would it kill someone to make a machine like this with a freaking FireWire or eSATA port? I understand a need to cut a couple corners but a high-speed data connection like eSATA for external hard drives would be helpful. As it stands, the machine is fairly Spartan. Besides the optical drive slot, you get six USB 2.0 ports, 2.1 audio out, 10/100 LAN support, a 7-in-1 card reader, and not much else.
Feel like making your PC match the décor? The background behind the monitor comes in a couple flavors. The demo machine pictured here has a tastefully tactile fabric cover. Lurking behind that panel four tiny speakers that produce suitable audio. It sounded good enough trying to rock out with Detroit Rock City, but it won't replace what you got in your home theater.
Don't let that $699 starting price fool you. The machine you really want to lay hands on will cost you more. Want the cool wireless keyboard / mouse combo? How about a Blu-ray drive? That touch screen? Expect to spend at least $799 and go from there. Before you know it, the price tag gets up into the range of the IQ506. It just has a smaller screen and looks a little more consumer-friendly. And, really, that's the point, I suppose. I'm waiting for more playtime with a proper review unit before passing final judgment.